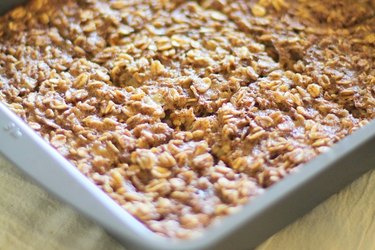 Take classic oatmeal to the next level by baking it. Baked oatmeal is simple to make and is perfect to share with friends and family for breakfast or brunch. You can add fresh or dried fruit, nuts, nut butters and sweeteners to customize this delicious dish to your tastes. The basic recipe begins with rolled oats, milk, eggs and a sweetener -- everything else is a bonus!
Things You'll Need
2 cups rolled oats

1/4 cup light brown sugar, packed*

1-1/2 teaspoons baking powder

1/2 teaspoon sea salt

1/2 teaspoon ground cinnamon

3 large eggs, lightly beaten

2 cups whole milk**

1 teaspoon pure vanilla extract
Tip
*To eliminate the refined sugar, substitute coconut sugar, pure maple syrup or honey.
**You can replace the whole milk with 2 percent milk. For a dairy-free version, use unsweetened almond milk or light coconut milk.
Basic Recipe
For a basic brown sugar and cinnamon baked oatmeal, start by gathering your ingredients. At a minimum, you will need rolled oats, milk, brown sugar, eggs, cinnamon, baking powder and salt. Heat the oven to 350 degrees F, and lightly oil an 8-by-8-inch baking dish.
Whisk together the milk, eggs and vanilla extract in a mixing bowl.
Stir together the oats, baking powder, brown sugar, salt and cinnamon.
Pour the dry oat mixture into the bowl with the wet milk/egg mixture and stir well.
Pour the oatmeal mixture into the prepared baking dish. Bake on the center rack for 50 to 60 minutes, or until the oatmeal sets up and tests clean when poked in the center. Allow the oatmeal to cool at least 10 minutes before cutting and serving.
Additional Flavoring Ideas
Now that you know how to make baked oatmeal, try experimenting with flavors. For mixed berry baked oatmeal, eliminate one of the eggs in the basic recipe (for a total of 2 eggs) and add 2 cups of fresh mixed berries -- such as raspberries, strawberries, blueberries or blackberries. Following the same baking instructions, and serve with a dollop of whipped cream or vanilla yogurt.
For apple walnut baked oatmeal, add 1 peeled, cored and chopped apple -- such as Fuji or Honeycrisp -- and 1/2 cup chopped walnuts to the basic recipe, following the same baking instructions. Serve with a simple powdered sugar glaze or cream cheese frosting.
Tip
Always use rolled oats when preparing baked oatmeal, as quick cooking oats will produce a different texture.
For a gluten-free version, be sure your oats say "gluten-free" on the package.