Things You'll Need
Salt

Mixing bowl

Sugar

Cinnamon

Cloves

Glass dish or plastic bag

Pepper

Vegetable oil

Skillet

Baking dish

Nonfat cooking spray

Honey

Brown sugar

Saucepan

Apple slices

Maple syrup

Aluminum foil

Instant-read thermometer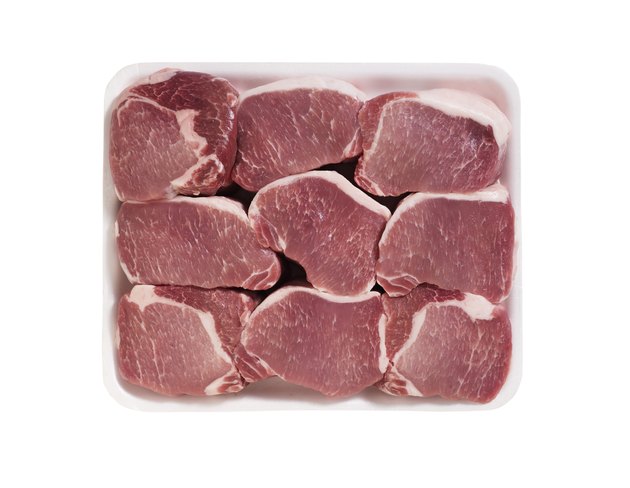 You're smart to treat pork with care. Pork ribs must be cooked slowly, pork sausage can't be rushed and even the most tender cut of all -- pork tenderloin -- can get tough if it's overcooked. But if you're worried about baking center-cut pork loin chops that are tender and juicy, don't bat an eye; simply brine those chops and you'll virtually guarantee one unbelievably juicy bite after another. Still, pork chops can always benefit from a little flavor boost while they bake. After all, they don't call it "tender" loving care for nothing.
Step 1
Create a saltwater brine for your pork loin chops by combining ½ cup salt for every 4 cups of water in a mixing bowl. Add ½ cup of sugar, if you wish, and a dash or two of cinnamon and cloves.
Step 2
Place the pork in a glass dish or a heavy-duty plastic bag and submerge it in the saltwater mix. Put the chops in the refrigerator and soak them for about 1 hour per pound, and no more than 8 hours.
Step 3
Rinse the chops and pat them dry. Sprinkle them generously with salt and pepper. Heat some vegetable oil in a skillet under a medium flame. Brown the pork chops for about 5 minutes total, turning them over about halfway through. Your goal here is not to cook the pork chops—only to give them a zesty brown edge.
Step 4
Preheat your oven to 350 degrees Fahrenheit. Spray a baking dish with nonfat cooking spray and place the pork chops in a single layer on the bottom. Heat some honey and brown sugar in the microwave or a small saucepan and baste the pork chops with the mixture. Alternatively, place apple slices at the bottom of the baking dish, sprinkle the chops with a mixture of brown sugar and cinnamon and press it into the chops. Top the chops with an apple slice or 2 and drizzle with a little maple syrup.
Step 5
Cover the baking dish with aluminum foil to help keep the pork chops moist and tender. Bake for about 20 minutes and then flip the chops over, glazing or adding your topping of choice to the other side. Bake for about another 20 minutes, covering them again.
Step 6
Check the internal temperature of your pork chops to ensure that they stay tender and that you don't overcook them. Pork should reach a finished internal temperature of 145 degrees. But since they will continue to cook as they rest on your counter for five minutes, remove them from the oven when the temperature reaches 140 degrees.
Tip
With or without chopped apples, pork chops might seem a bit lost without a side of applesauce. Mashed potatoes and roasted vegetables will round out the meal nicely.