Whether you're planning a faraway family camping trip or dinner right in your own back yard, cooking a steak in tin foil can create a party atmosphere—and that's before the kids get into the act. Sealing in a steak's natural juices is one natural advantage of creating foil packets, but so is the ability to customize each packet so that no two include the same seasonings or vegetables. Unwrapping the packet to find your fully cooked meal might remind you of the fun of receiving a gift, but with a quick, no-fuss cleanup.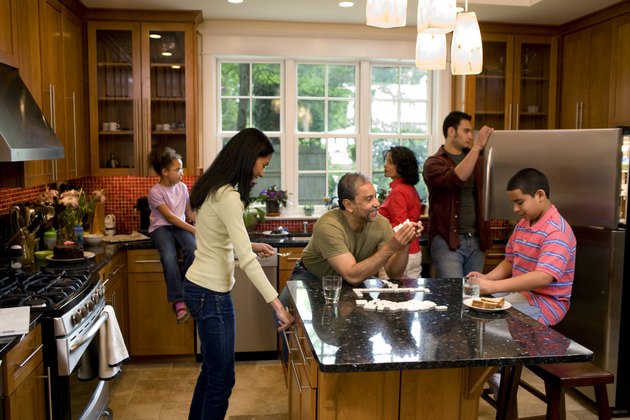 Things You'll Need
Tin foil

Nonfat cooking spray

Steak

Salt

Steak seasoning or onion and garlic powder (optional)

Olive oil or minced garlic

Vegetables (optional)

Wide spatula

Plate

Meat thermometer
Step 1
Turn your grill to a medium flame. Make a sturdy foil packet with a sheet of heavy-duty tin foil or two sheets of thin foil. Cut a piece (or pieces) large enough to cover the steak as well as any other ingredients. Spray the foil generously with nonfat cooking spray.
Step 2
Place the steak in the middle of the foil. The thicker your steak is, the longer it will take to cook on the grill, especially in a packet that you will not flip as the steak cooks. Consider flattening a thick steak with a meat pounder to expedite the grilling.
Step 3
Pierce the steak several times with a fork and season it with some salt. Add a dash of steak seasoning, if you wish, or some onion and garlic powder. Drizzle the steak with some olive oil or minced garlic, being sure to spoon garlic juice --and not just the tiny pieces of garlic -- over the steak.
Step 4
Top your steak with some onion or tomatoes, both of which will help further tenderize the meat. Otherwise, consider adding some button mushrooms, green beans or slices of yellow squash to your packet.
Step 5
Close the packet, drawing one long piece toward the center and placing the other long side over it -- just like you were wrapping a present. This midpoint is where some air and steam will circulate as the steaks cook on the grill. Roll up the shorter sides tightly so that no juices escape, stopping within a few inches of the food inside the packet.
Step 6
Place the packet on the grill with a wide spatula -- the tool of choice when you're cooking with foil packets. Rotate the packet 180 degrees every few minutes or so to ensure even cooking.
Step 7
Remove the packet from the grill after 10 minutes. Place it on a plate and let it sit for a few minutes before slowly and carefully opening the hot packet wide enough to insert a meat thermometer in the thickest portion of the steak. It should reach at least 130 degrees, but return it to the grill and cook until it suits your preference.
Tip
Just as no two cuts of meat are alike, no two grills are alike. Many have a hot side and a cooler side. After a trial run or two, your confidence in cooking with tin foil should soar.