Beets are an especially good choice for long-term storage as they are readily available, high in fiber and many vitamins, and maintain their flavor if properly cooked prior to canning or freezing. While roasting beets brings out their natural sweetness, this method of cooking is better suited to freezing the vegetable, not canning. Roasting before canning results in a more fibrous or stringy texture, and so should be used only when freezing beets. Boiling beets is the preferred method for canning, and is a faster way to cook them.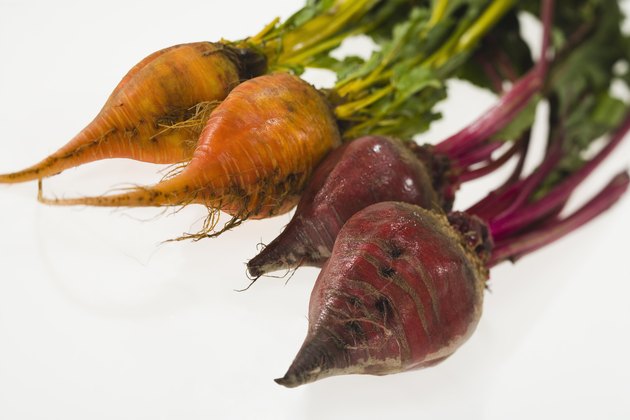 Things You'll Need
Beets

Roasting pan

Parchment paper

Olive oil

Salt and pepper

Large pot

Food safe storage bags for freezer use
Roast Beets for Freezing
Step 1
Preheat oven to 475 degrees Fahrenheit. Line a baking sheet or roasting pan with parchment paper to avoid any stains from the beets.
Step 2
Scrub the beets to clean off any dirt or other residue. Peel the skin off the beets and trim the tops and tap roots. Cut the beets into 1-inch uniform slices or pieces. Uniform pieces will be more evenly browned.
Step 3
Toss the beets in a bowl with olive oil and salt and pepper, to taste. Arrange the beets on the pan in a single layer to ensure even roasting. Roast for 25 to 30 minutes, turning once during the cooking process.
Step 4
Allow the beets to cool completely. Place them in a food-safe plastic freezer bag, pushing out any extra air in the bag while sealing. Freeze.
Step 5
To thaw, remove the bag and allow the beets to sit out at room temperature if serving chilled, or heat them in the microwave or stove top for a few minutes until warmed. Drizzle olive oil over the beets if they appear dry, and season with more salt and pepper to taste before serving.
Boil Beets for Canning and Freezing
Step 1
Fill a large pot with water and bring to a boil. Select a pot large enough to hold all the beets without overcrowding. This will ensure even cooking.
Step 2
Select beets that are 1 to 2 inches in diameter, as large ones tend to be more fibrous. Trim all but an inch of stem and roots from each beet. Leaving some of the stem and roots will diminish some of the color that bleeds during boiling. Scrub the beets, taking care to remove any soil or other residue.
Step 3
Add beets carefully to the boiling water. If you're going to can the beets, allow them to boil until the skins fall off easily, approximately 15 to 25 minutes. If you plan to freeze the beets, allow them to boil 25 to 30 minutes. Larger beets will take 45 to 50 minutes. Drain the water and allow the beets to cool until they can be handled.
Step 4
Peel the skins off the beets and discard. Remove the remaining stem and roots. Cut the beets into 1/2-inch pieces or slices. If you're freezing or canning baby beets, you can leave them whole. If you're freezing them, leave smaller beets whole, slice larger beets into 1-inch pieces and place them in a food-safe plastic freezer bag. Press out any extra air in the bag before sealing. To serve frozen beets, allow them to thaw and serve chilled or reheat for a few minutes.