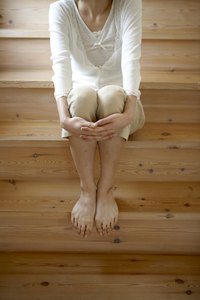 Wood filler, also known as wood putty or grain filler, covers holes, dents, chips and deep grains in wood, disguising them and smoothing the surface. You can use wood filler on stairs to make them more aesthetically appealing and comfortable to walk on. However, if you want an even-colored finish, you must apply the wood filler after staining the stairs. Stainable wood fillers rarely adopt an identical color to the surrounding wood. With a bit of time and careful application, you can disguise nearly any blemish on your stairs with wood filler.
Things You'll Need
Cloth
Putty knife or flathead screwdriver
Select wood filler that matches the color of your stairs as closely as possible. Most hardware stores allow you to take home samples of multiple colors to determine the best match. Allow a small amount of each color to dry and compare it to your stairs.
Wipe all areas that require wood filler clean with a damp cloth. Dust, dirt and debris can interfere with the filler's adhesion. Allow the areas to air dry.
Dip the tip of a putty knife or flathead screwdriver into the wood filler, scooping out a small amount. Press the filler into the void in the stairs, making it as flush with the surface as possible.
Moisten a cloth in warm water and wipe it over the puttied area, removing any excess. The water dilutes some of the filler, allowing it to sink deeper in the stair's wood. Repeat the application and wiping process with all remaining areas of the stairs.
Allow the filler to dry for 24 hours before normal traffic returns to the stairs. Place a piece of newspaper over each area to protect the filler if you cannot avoid walking over the stairs.
Apply wood finish over the stairs per the manufacturer's instructions if the wood does not have one already. The finish protects the wood, helping prevent further damage. Skip this step if the stairs are already finished.