Things You'll Need
Measuring tape/ruler

Graph paper

2-by-6 boards

Insulation

Metal flashing

Shingles

Roof vents

Nails

Premade windows

Exterior siding

Electrical wiring

Plumbing materials

Drywall

Joint compound

Sand paper

Paint

Bathtub

Shower

Vanity cabinet

Sink

Toilet

Ceramic floor tiles

Wax ring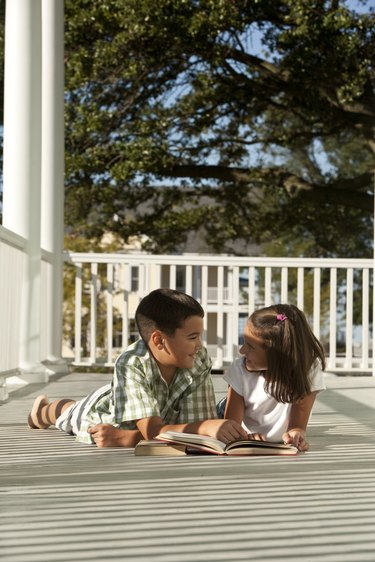 Enclosing an existing porch will require excellent insulation to build a bathroom. Running all plumbing and building the bathroom is not a difficult process, but you want the room to stay cozy in winter. Look at ways to wrap the porch foundation with siding, for example, instead of leaving it open underneath. You will need to think about future needs for repairing any plumbing under the porch, however. Create the foundation siding materials, so you can remove them, if needed.
Step 1
Look at ways to route plumbing to the porch. See if you can route water lines from the house wall areas. Design the toilet drain so it will fit well with the septic system or sewer. Look at your house heating and cooling system, too, in order to decide if you will need portable heaters or you will connect to existing duct work.
Step 2
Measure the porch areas and draw everything on graph paper. Sketch the framework to enclose the porch and leave openings for windows. Design wall studs on 16-inch centers using 2-by-6 boards to allow for thicker insulation.
Step 3
Make needed repairs to the porch roof. Replace damaged metal flashing or shingles. Locate a roof area for toilet and sink vents. Place vents at one end, for example, to make them less noticeable.
Step 4
Build the wall framework with 2-by-6 boards, allowing for window openings. Nail a bottom plate around the porch perimeter and secure all vertical studs in place to a top plate. Buy windows ahead of time, so you can allow for exact dimensions in the framing to accommodate the new windows.
Step 5
Insulate the walls with fiberglass insulation and cover exterior walls with siding. Nail up house siding over the studs. Run interior electrical wiring and plumbing while walls are open.
Step 6
Channel all water pipes and drain-waste-vent pipes to a single wall. Create this "wet wall" as a convenient way to repair any future leaks within one wall. Route the main toilet drain to fit the sewer lines or septic lines with as short a distance as possible. Draw the bath layout in an area that is 5-by-9-feet at minimum.
Step 7
Hang drywall sheets inside the new bathroom after you install water lines and drains, plus all vents. Nail drywall into place using 1 1/4-inch ring shank nails. Finish drywall with drywall tape joint compound and sand seams to a smooth finish. Roll on paint before bringing in main fixtures.
Step 8
Install the bathtub, shower, vanity cabinet and sink. Envision the house's main wall as the wet wall, which is the house wall opposite the street side. Fit the bathtub to the far left of this long wall with the toilet 2 feet to the right of the tub. Install a pedestal sink to the right of the toilet.
Step 9
Finish the flooring with tile or vinyl sheet flooring. Install the toilet on top of the tiles or vinyl with a wax ring.
Tip
Acquire space for the bath from an adjacent room, if needed. Replace a load-bearing wall with a header beam and supports to open the house wall.