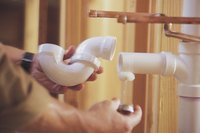 Adding a basement bathroom can increase your home's value. If roughed-in plumbing hookups are not in place, however, installing traditional plumbing can be laborious and cost-prohibitive. One alternative is to install an upflush toilet with a self-contained tank that accepts water and waste from not only the toilet but from a sink and shower as well. Like all plumbing fixtures, an upflush toilet should vent into your home's main vent stack, which extends from the main sewer line all the way to the roof. The tank comes with a vent connection on top.
Things You'll Need
PVC pipe
PVC corner fittings
PVC T-fitting
PVC cleaner and glue
Hack saw
Drill with 2-inch hole bit
Tape measure
Locate the main sewer line and find the vertical vent stack that runs from the sewer line and exits out of the roof. This is typically a 4-inch pipe, called a vent-and-soil stack. Water and waste from upper floors flows into the vent-and-soil stack, but the pipe also serves the purposes of venting the drainage system.
Find the highest wastewater drain connection on the vent-and-soil stack. This will be no higher than the uppermost floor with a toilet or sink. You must connect the vent pipe from the upflush toilet to a point on the vent-and-soil stack higher than this drain connection. The best place to connect is often in the attic.
Locate the vent connection on the top of the upflush tank. This is probably a 1 1/2-inch fitting. All your fittings and the diameter of the PVC pipe you use should be the same size as the vent connection on top of the tank.
Attach a PVC collar fitting and then a PVC pipe, to the top of the tank's vent connection. The pipe should extend between the wall studs to the attic. Use a drill with a 2-inch hole bit to drill a hole, if necessary, in the wood plate between floors. For all pipe connections, use PVC cleaner and glue as recommended on the containers.
Attach a PVC 90-degree corner fitting to the top of the upflush vent pipe in the attic and attach a horizontal PVC pipe that reaches the vent-and-soil stack.
Install a 4-inch-to-1 1/2-inch reducer T-fitting on the vent-and-soil stack. To do this, you will have to cut the stack with a hacksaw and insert both ends of the stack into the large fitting openings. The smaller, 1 1/2-inch T-connection attaches to the upflush vent pipe.