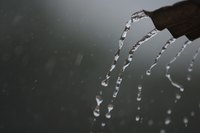 Roof closure strips are sections made of foam or other flexible material that are used to seal the spaces left along the edges of a roof by corrugated metal roofing. If roof closure strips are not used, every place the metal is raised leaves a gap between the wood of the roof and the corrugated metal. Roof closure strips are made to fill this gap and come in many different styles to fit the various kinds of metal roofing that are commonly available. These strips seal out animals, birds and insects. They will also stop wind, rain and other weather-related problems.
Things You'll Need
Roof closure strips
Butyl tape sealant
Galvanized screws (optional)
Screwdriver (optional)
Select the right roof closure strips for the type of corrugated roofing you have. Catalogs typically show different silhouettes to make it easier to find the appropriate strips. Match the pattern of the metal to the style of the strips.
Apply the closure strips to the wooden roof decking. Do this prior to the installation of the metal panels. Place the closure strips along the entire length of the roof, right at the edge, but not so close that any of the strip hangs over the edge of the roof. The easiest strips to use have an adhesive backing, conveniently holding them in place during the installation of the roof.
Lock the end tabs together as you install them, if your closure strips have this feature. Some types interlock for added protection, but others don't. Normally it is a matter of fitting the tab on one strip into a hole on the adjacent strip to lock them together.
Seal the strips with a line of butyl tape sealant. Apply the sealant to the upper side of the strips, to prevent moisture from being trapped underneath. Be sure not to leave any gaps between the strips and the roof.
Fit the corrugated roofing panels over the closure strips and screw them in place. In most cases this is adequate to secure the strips, since the downward pressure from the metal will push down on the closure strips. It is best to attach the closure strips to the roof with galvanized screws, unless the manufacturer advises against this.