Things You'll Need
Rubbing alcohol

Shallow dish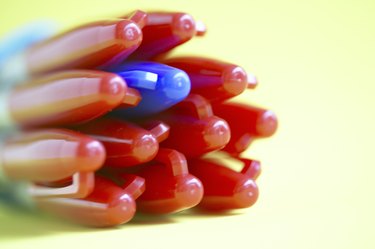 Sharpie brand permanent markers will eventually run out of ink with multiple uses, but sometimes you just forget to put the cap back on and the tip can dry out prematurely. Before you throw your marker away, try a technique that can revive your Sharpie's performance, whether you're using a fine or ultra-fine point. Not only will this extend the life of your Sharpie but it will also save you money.
Step 1
Open your Sharpie marker by removing the cap or clicking the button on the retractable tip. Test the tip on a piece of paper to make sure it is dry.
Step 2
Pour a small amount of rubbing alcohol into a shallow dish.
Step 3
Place the tip of the Sharpie in the rubbing alcohol and allow it to remain until you can see a trace amount of ink seep out. The tip will absorb the alcohol and be re-moistened. If you do not see any ink then it's possible the marker is completely spent.
Step 4
Replace the cap and leave it alone for about a half hour. Store the Sharpie vertically with the cap down to help the ink saturate the re-moistened tip.
Step 5
Remove the cap or extend the tip of your Sharpie and draw with it. You should see a clean line.
Tip
These steps can work on almost any kind of marker. For non-permanent ink markers, try using warm water instead of rubbing alcohol.
Warning
Always supervise young children around the use of rubbing alcohol.