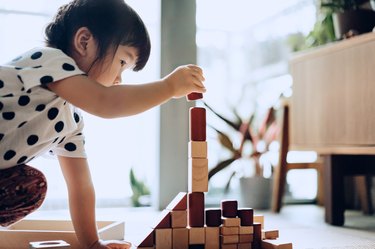 Christmas alphabet blocks come in different designs and make a timeless gift for children. Once your kids are old enough to stop playing with them, you can make a block tree for Christmas with these blocks. Some of these blocks spell out "Merry Christmas." Others have all the alphabet letters on one side and pictures of Christmas trees and other holiday items on the opposite side. You also have the option of painting your own blocks to make the tree very customizable.
DIY Christmas Alphabet Blocks
Are you wondering how to make large alphabet blocks? You can use either large or small wooden blocks, scrapbook paper, Mod Podge, paint, paintbrushes and other supplies to make homemade alphabet blocks. These can in turn be kept as is or used to make an alphabet block Christmas tree.
First, trace each block four times on a different sheet of paper. Then, glue the paper pieces onto the block sides with Mod Podge. You have many options when decorating the blocks. You can cut letters out of cardstock or paint them on.
Look for Christmas-patterned scrapbook paper for holiday-themed alphabet blocks and use red and green paint for the letters. When doing the primary block color, paint two coats, allowing the first one to dry completely before starting the second. These blocks look very cute when you have a different color or pattern on each side and then glue the letters onto one of the sides. Are you looking to make oversized blocks for DIY toys or décor? You can find instructions and even video tutorials online.
Making Christmas Alphabet Blocks Trees
To make an alphabet block Christmas tree, start with homemade letter blocks or buy some that are premade. You may need up to 100 1-inch Christmas alphabet blocks, acrylic craft paint, a hot glue gun, ornaments, Christmas miniatures, ribbon, white fur edging and green fabric. Feel free to decorate the tree with other things as well. You can make the base from reclaimed wood if you like. Then, paint the base in a festive color, like red, and wrap the base with Christmas ribbon.
You can make a Christmas tree skirt for under the tree by cutting out a circle of green fabric and gluing it down into the middle of the base. Edge this with faux white fur. To make the bottom row of the block tree, lay out a large circle of the blocks in the middle of the wood. Hot glue those to the wood base. To form a Christmas tree shape, the subsequent circles of blocks should be glued on about halfway inside on top of the first row. You can place some blocks beneath this row temporarily to hold them in place while the glue dries.
Finishing Touches for Block Trees
When you are close to the top of the tree, you can remove the stabilizing blocks. At the top, you should have a circle of four blocks. Glue an extra one in the middle to provide a flat surface. Finally, glue one block on top of that extra one, choosing a block with the first letter of the recipient's name for a thoughtful touch.
Now comes the most magical part: decorating your Christmas alphabet block tree. You can glue any small ornaments onto the block edges. Christmas tree miniatures, tiny wreaths and mini snowmen also look cute on these trees. Add a tree topper to the very top and add some more miniatures on the base if you like.