No square or boxy rooms here. Quonset huts are easy-to-spot, rainbow-shaped living structures that are traditionally fabricated of sturdy metal. If you're about to finish the interior of this type of shelter, take a few design liberties so the result is unique, fun and comfy -- and don't forget to hang the "Quonset Sweet Quonset" sign when you move in.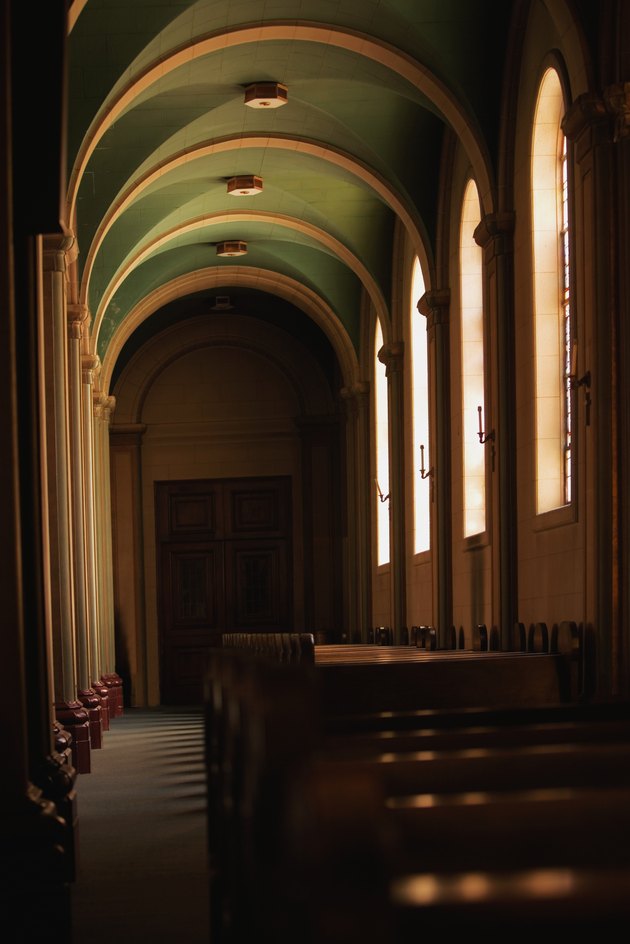 Things You'll Need
Paint

Brushes

Wallpaper

Wallpaper paste

Chair rail

Painter's tape

Kraft paper

Pencil

Plywood

Jigsaw

Sandpaper

Stain

Drill

Screws

Fabric

Fabric glue

Wood strips

Decorative tacks
Step 1
Add the illusion of more room and reflect light emanating from windows and glass doors by choosing white or another light color as your paint choice and then use it throughout the interior of your Quonset hut so it optically expands the space. Keep things ultra simple. Display art on tables rather than trying to mount pieces on the structure's convex walls.
Step 2
Turn the arc of your Quonset hut into a dramatic focal point – just as long as you have no plans to load up the space with lots of furniture, colors and art. Think nature mural: one colorful element that will dominate the hut. Install chair rail halfway up dome walls on both sides. Paste a nature mural on the wall, beginning at the rail line and attaching the mural panels up toward the ceiling. Choose a canopy of trees or a beautiful sky with clouds for the ideal design element.
Step 3
Paint stripes across the ceiling of your Quonset hut dome to visually elevate the room and add one accent color. Measure the circumference of the ceiling before deciding on the number, width and color of the stripe that best suits your design aesthetic. Paint the entire arc white and then use blue painter's tape to mask off the striped sections. Allow the paint to dry thoroughly before peeling the tape away to produce a lovely effect from floor to ceiling to floor.
Step 4
Break out your woodworking equipment to craft 3D dome embellishments fashioned of delicate wood ribs that emulate woodwork found on the ceilings of Gothic interiors. Measure the area, calculate the ceiling arc and make a rib pattern of brown Kraft paper. Trace the silhouette on sheets of plywood, cut them out with a jigsaw, sand and stain them. Mount them to the ceiling of your Quonset hut with screws made especially for metal, wood or the medium lining your interior space.
Step 5
Slipcover your Quonset hut's interior if the idea of fabric walls intrigues you and you love the colors, patterns and textures found on today's textiles. Work with fabric glue if you want a tight bond or tack down wood strips, using them to anchor the material at junctures along the interior of the dome with decorative tacks. Avoid over-decorating your Quonset hut's interior or you might add too many stimulating elements to your nest to allow you to relax at the end of the day.
Warning
Respect the silhouette. Traditional decorating techniques rarely work with a uniquely shaped building like a Quonset hut, so always follow the building's lines to achieve interior harmony.