Things You'll Need
Tape measure

Pencil

Stair nose trim molding

Circular saw

Construction adhesive

Drill with countersink drill bit

1-1/8-inch wood screws

Wood filler

Putty knife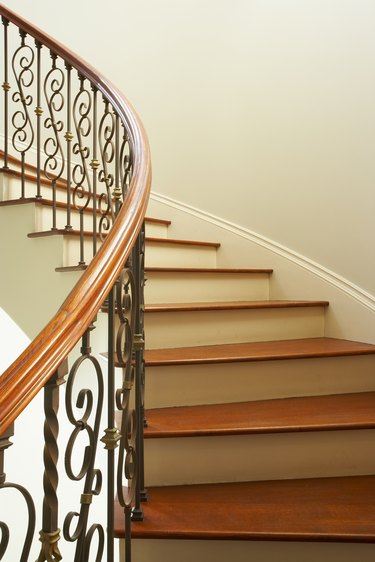 SimpleSolutions is the creator of flooring accessories, including a line of stair nose molding meant to cover the front edge of your steps. The molding sits against the stair tread while overlapping the front of the step to give it a nicely rounded decorative look. Installation of the stair nose trim is quick and simple with the molding held in place primarily with adhesive, and a bit of additional support from wood screws. By trimming each stair nose to fit, you'll be able to create the perfect front for your staircase, improving the appearance by smoothing out the stair's lines.
Step 1
Measure the width of the step with a tape measure. Mark the measured width onto the bottom of the stair trim. Set the trim face down onto a cutting surface, and then use a circular saw to cut it along the marked line. Cutting from the rear will avoid chipping or scratching the surface of the trim. Wipe off any dust with a clean cloth.
Step 2
Place two beads of construction adhesive along the front of the step where the trim will sit. Place the first about 1/2 inch from the step's edge and the second bead about 1-1/2 inches from the edge.
Step 3
Press the stair nose into place with the curved ledge along the front of the trim piece overhanging the edge of the front of the step, while the rear of the overhanging nose is pressed back against the step riser until it lies flush with the riser surface. The ledge along the top of the nose at the rear of the piece should overlap the stair tread.
Step 4
Drill pilot holes along the length of the nose piece every 10 inches using a countersink drill bit. Switch to a screw set in the drill and then drive 1-1/8-inch wood screws through the predrilled holes and into the step below to hold the nose trim securely in place. Cover the top of the screws with wood filler the same color as the trim. Use a putty knife to press the filler into place, and then lightly scrape the knife over the filler to level it off with the rest of the trim surface. Allow the filler to dry completely before using the step.