Things You'll Need
Wood adhesive

L-bracket

Screws

Replacement lumber

Electric saw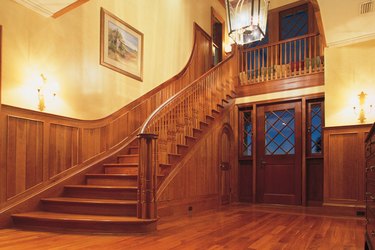 Stair stringers are placed on a diagonal plane to reinforce each side of a staircase. Stringers support the treads -- the tops of the steps -- and the risers. Since stairs usually get a great deal of use, it's important to check the stair stringers regularly and repair them if they are cracked. Some cracks can be sealed with adhesive and then reinforced with an L-bracket and screws. If the damage is extensive, however, you can reinforce the section using a wooden splint.
Step 1
Assess the damage to the stair stringers. Do you notice large cracks along the sides of the stairs? Do the cracks worsen when you put weight on the stairs? This means that your stringers need to be repaired.
Step 2
Cut a piece of 2-inch-by-4-inch lumber in the same size as the cracked stair stringer using an electric saw or hand saw.
Step 3
Apply wood adhesive to the face of the replacement lumber.
Step 4
Apply the adhesive-coated side of the lumber to the damaged stair stringer. Use a clamp to secure the wood splint in place.
Step 5
After the wood adhesive is dry, install screws around the four corners of the wood. This will serve to further reinforce the repair.
Step 6
Test the repair carefully by adding weight to the stairs. There should be no visible cracks in the wood.
Tip
When the repair is finished, paint or stain the stair stringers in order to hide the reinforced section.
Warning
If wooden stringers are rotted out due to water damage, the staircase may need to be completely replaced.