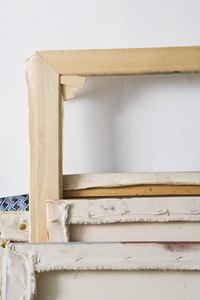 Decorative artwork and photographs are typically slid right into standard picture frames purchased from a department store. However, it is difficult to find a frame deep enough to fit a painting created on hardboard, which is thicker than a photograph or piece of paper-based artwork. Frame the hardboard painting yourself by using a few basic materials that can be found at any hardware store. This enables you to hang up a beautiful piece of art painted on hardboard without spending a fortune on custom framing.
Things You'll Need
Four pine boards, 1/2-inch thick, three inches wide, 18 inches long
Band saw
Sandpaper, medium-grain
Sandpaper, fine-grain
Washcloth
Staple gun
Staples, 1/2-inch long
Waterproof latex paint
Paintbrush
Staples, 1/8-inch long
Cut four three-inch wide, 18-inch long pine boards using a band saw to the measurement of the outside edge of the hardboard canvas, adding on three inches on each end. Cut the ends with the band saw at a 45-degree angle.
Sand all four boards using medium-grain sandpaper. This will remove any splintering, roughness and unevenness.
Sand all four boards again using fine-grain sandpaper. This will make the boards smooth and sleek.
Wipe off the boards with a washcloth to remove any sawdust.
Place the boards into a rectangle with the right sides facing down. Line up the corners so that they are flush.
Staple across each corner using a staple gun and 1/2-inch long staples.
Paint the frame using latex paint, any color. Allow the paint to dry for 30 minutes or until it is completely dry.
Place the hardboard canvas into the opening of the canvas facing downward, then staple around the edges using a staple gun and small 1/8-inch wide staples.