Things You'll Need
Commercial rust remover

Sponge

Aluminum foil

Scissors

Spray bottle

Cloth

Baby oil

Steel wool

Chrome polish (optional)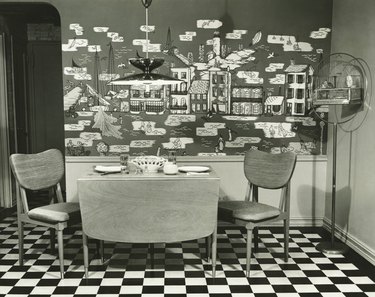 Chrome adds sparkle to any decor. A recent trend in home decorating is the use of 1950s-style dinette tables and chairs for breakfast nooks and small dining areas. In general, the metal on these tables is fairly low maintenance and only requires an occasional polishing to keep it looking nice. However, sometimes rust spots can appear when moisture is left in one spot too long, such as on a dinette table leg. Removing rust from a dinette's table leg can be done with commercial cleaning products or items found in your kitchen and bathroom.
Step 1
Use a commercial rust remover, which is usually in powder form, to remove the rust from the dinette table legs. Moisten a sponge slightly and sprinkle a small amount of rust remover on the sponge. Wrap the sponge around the table leg and work the sponge up and down several times until the stain is removed. Repeat for all remaining legs, if necessary.
Step 2
Cut a piece of aluminum foil with scissors. Use a piece that is big enough to fully envelop the table leg. Squirt a small amount of water on the rust spot with a spray bottle. Crumple the aluminum foil slightly and rub over the rust spot up and down for several strokes. Repeat for any other rust spots.
Step 3
As a last resort, use a piece of fine steel wool, such as #000, to clean the rust spot. Pour a dollop of oil, such as baby oil, onto the steel wool and rub the rust spot gently several times. Add more oil and use a fresh piece of steel wool for any other rust spots.
Step 4
Wipe the table leg dry with cloth and apply chrome polish, if necessary.