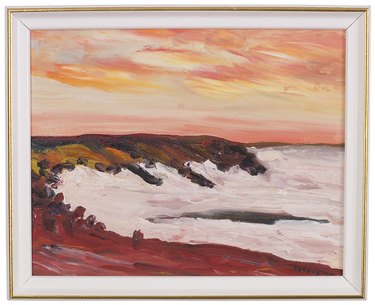 Thousands of paintings have been lost to history and even more thousands of artists have come and gone, some leaving no more than a nigh-illegible signature. Finding an old oil painting on canvas often leads to more than just a new piece of art on the wall; digging up an old art find can lead to a mystery-solving adventure, a sort of cultural quest, as you attempt to find out who produced the piece.
Step 1
Check the back of the canvas. In some cases, information about the painting – such as the title, year created and artist's name – is printed on the back. If the work is framed, remove the protective backing paper – you may find the artist's printed name underneath.
Step 2
Visit fine arts researcher John Castagno's online database of artists' signatures at artistssignatures.com. As of 2011, this database lists 50,000 artists and 55,000 signature examples. Use the "Reverse Lookup" feature to identify monograms, illegible signatures, symbols, common last name signatures, Cyrillic signatures or Prakrit signatures. This feature shows you an expansive lineup of signature examples. Scroll through the images and click on a signature that matches the one on your oil painting. Some of Castagno's services come at a small membership fee, and the site offers further professional support services for a greater fee.
Step 3
Consult "The Encyclopedia of Artists' Signatures, Symbols & Monograms" by H.H. Caplan and Bob Creps. Find this 860-page tome, which indexes over 25,000 signatures, in the reference section of your local library or at an art museum bookstore. Look up signatures by the category of your choice, including monograms, symbols and illegible or misleading signatures.
Step 4
Visit local art galleries, especially if you suspect the piece is of local origin. Show the piece to the gallery owner, detailing where and how you acquired it. Gallery owners may be able to identify the work of a local artist, or put you in contact with someone who can. Take the piece to a museum and meet with the curator or in-house historian if locals can't identify the piece. If you have a shortlist of potential artists, inquire about any monograms, symbols or alternative names he may have used.