Things You'll Need
Razor blade scraper

Abrasive sponge

Kerosene

Absorbent cloth

Stain-blocking primer

Paint brush or roller

Latex paint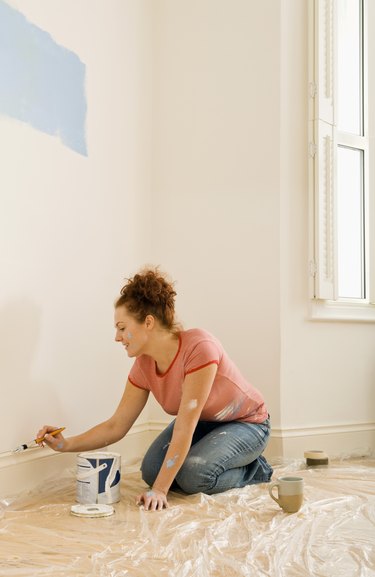 Tar forms a hard, raised and uneven surface on the wall. This adhesive, water-resistant material resists removal by soaps and many degreasers. It also bleeds through paint if the wall isn't properly prepared. These factors make painting over tar successfully a difficult process. Cover tar by following a multistep painting process which involves time and effort. You can complete the painting project with everyday tools and materials.
Step 1
Scrape off as much tar as possible with a razor blade scraper. Be careful not to dig into the wall and keep the wall surface as smooth as possible.
Step 2
Clean the remains of the tar-stained surface with an abrasive sponge dampened with kerosene in one hand while blotting the runoff with an absorbent cloth in the other hand. Allow the cleaned wall to dry completely.
Step 3
Paint the cleaned wall according to label directions with a stain-blocking primer, available at home improvement stores. Let the primer dry completely.
Step 4
Use a paintbrush or paint roller to apply a coat of latex paint to the wall. Let it dry for at least one hour before applying a second coat.
Tip
Latex paint is washable after it dries. Use spackle to smooth the wall surface and cover unevenness.
Warning
Use only the amount of kerosene necessary to clean the stain, due to its flammability and strong odor. Do not store kerosene inside your home at any time.