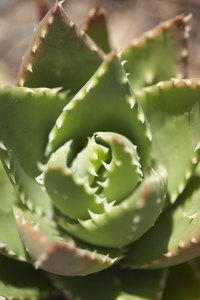 Succulent plants have thick leaves or shoots that retain water to survive in the arid or semi-arid environments where they grow naturally. Along with very little need for water, succulents have the ability to grow in moss. Combined, these traits make it easy for you to grow these plants indoors or outdoors. Rosette-shaped plants like Sempervivum tectorum, "hen and chicks," and the small, round leaves of the Crassula, "compact jade," grow well in simple moss-lined topiaries.
Things You'll Need
Newspaper
Wire topiary frame
Sphagnum moss
Succulent clippings
Floral wire
Water
Wooden picture frame, 11 inches by 13 inches
Chicken wire
Wire cutters
Staple gun
Succulents Topiary
Cover a flat work surface with newspaper. The paper makes cleaning up the messy moss a breeze.
Place the wire topiary frame on the work surface. You can find wire topiary frames in various shapes and sizes. A butterfly-shaped topiary frame or a round wire ball to set on an upside-down container in the yard would work well.
Press a thick amount of sphagnum moss into the wire frame. Fill the inside of the wire frame with the moss so the moss is visible from the front and back.
Insert your succulent plant cutting into the moss on only one side of the wire frame. Plant at least six to eight clippings in the moss.
Water the moss and leave it flat on a work surface for at least four weeks before moving it. The plant clippings need this time to take root. Water the succulents once per week.
Picture Frame Succulents Wall Display
Prepare a flat work surface with newspapers. Take the glass and backing out of a wooden picture frame and set it on the work surface.
Turn the frame over and place a piece of chicken wire cover the back of the frame. Use wire cutters to clip the wire to fit evenly on the back of the wood frame. Secure the chicken wire to the back of the frame with the staple gun.
Press pieces of sphagnum moss into the chicken wire. Insert floral wire through the moss and wrap it around the wire.
Insert succulent clippings into the moss. Place four to six small succulents in the frame and leave some moss showing for additional decorations.
Water the moss and let the frame sit for at least four weeks for the clippings to take root. Water the succulent plants once per week.