Things You'll Need
Towel

Iron

Cloths

Furniture polish

Baking soda

Salt

Toothpaste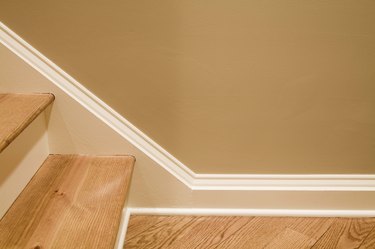 Baseboards are a common type of wall trim. These boards serve as a border between a wall and the floor. If you happen to notice white, hazy stains on your baseboards, you may be dealing with marks left behind by water. Mopping or spilling a drink without drying the baseboards properly can result in water stains. You can remove most water stains from baseboards by using one of several simple cleaning techniques.
Iron Method
Step 1
Cover the soleplate of a warm iron with a clean, thick towel.
Step 2
Place the towel-covered iron onto the baseboard water stain and hold it there for approximately 5 seconds.
Step 3
Remove the iron. The heat from the iron is likely to draw the moisture from the baseboard, which will remove the stain.
Step 4
Polish the baseboard with furniture polish to restore its luster.
Polish Cleaners
Step 1
Make your own water-stain-removal polish. There are several options for this type of polish. Mix 1 tablespoon of baking soda with 1 teaspoon of water to form a paste. Another option is to mix 1 teaspoon of salt with a few drops of water. A ready-made polish you can use for this task is non-gel toothpaste.
Step 2
Dip a clean, soft cloth into the polish and use it to rub the polish onto the water stain.
Step 3
Wipe off the polish with a damp cloth.
Step 4
Shine the baseboard with furniture polish.