Things You'll Need
Photo-editing software

Prints of your photos

Scrapbook or binder with page protectors

Decorative archival quality paper

Scissors

Ruler

Pencil

Blank cards or tags

Glue sticks

Embellishments (optional)

Grades, reports or other mementos

Letter and number stickers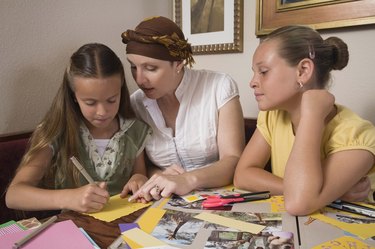 One keepsake that no child should be without is a yearbook, but a professionally printed book isn't always an option. If you homeschool, belong to a small or private school that doesn't print yearbooks or if your school's yearbook is cost-prohibitive, you may feel left out. You don't have to, though, since you don't need a pricey, professionally printed book to display your memories. Take the project into your own hands and make a yearbook of your own.
Step 1
Keep a computer file to collect digital photos throughout the year for the original photos. Take an individual portrait for each child, as well as photos of group activities, classes, field trips, social events and finished projects.
Step 2
Make a second file for adjusted photos. Crop them, resize them or fix the color or add special effects with your ohoto-editing software if desired. Save the adjusted photos in the second file, but always keep the originals as source files.
Step 3
Label the adjusted photos as you collect them with dates and places so you won't forget a few months down the road. If you're making the yearbook for a class or co-op and not just your own children, keep accurate records of every child's name and age.
Step 4
Print your photos at home or through a photo printing service.
Step 5
Sort your photos, deciding how you want to categorize your book. One option is to have the book go through the year chronologically, from the back-to-school shopping to end-of-the-year luncheon. Alternately, create a month-by-month layout. Categorize by child if you have several, by family if you're part of a group or by the types of activities throughout the year.
Step 6
Get a scrapbook in the size you desire with drop-in page protectors or a 3-ring binder with acrylic page protectors. Get some decorative archival quality paper as well. Lay out a sheet for the backdrop of your first page.
Step 7
Arrange your photos on the page. Cut a strip of blank paper to put across the top of the page as a headline or to announce the person or event in the photo.
Step 8
Journal your memories on blank cards or tags. Arrange all the elements on the page and affix them with a glue stick. Add more embellishments, if desired, such as stickers, die cuts or school-themed scrapbooking page decorations. Once you finish one page, start another.
Step 9
Make and include some pages featuring grades, progress reports, writing samples, drawings, ribbons, certificates or other accomplishments throughout the year. Place your pages into your scrapbook page protectors.
Step 10
Decorate the cover of your scrapbook with more photos and stickers. Include the year the book represents.
Tip
If you prefer digital scrapbooking, arrange your photos and pages with digital scrapbooking software and print them out.
Instead of using a regular photo album with individual pages, have your pages professionally bound by a printing service.