Things You'll Need
Christmas ornaments

Ribbon

Scissors

Ruler or tape measure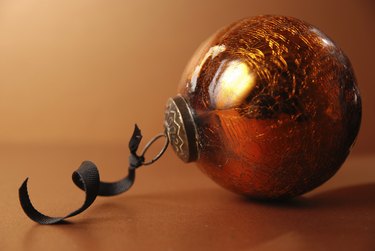 The simple addition of ribbon can turn ordinary Christmas ornaments into an elegant-looking display when hung from a chandelier, no holiday tree needed. Coordinate hanging ornaments with the room's decor for a simple but chic display, or work with specific themed ornaments, such as handmade ornaments from children in the family, or ornaments of specific shape or color schemes.
Step 1
Choose ornaments in colors that coordinate with the room's decor. If hanging the ornaments from a chandelier above a dining table, for instance, coordinate the ornaments with centerpieces, table decorations and napkins. You can choose one ornament style, mix and match different shapes in complementary colors, or choose similar shapes in varying sizes.
Step 2
Measure and cut lengths of ribbon for tying the ornaments to the chandelier. Using a ruler or tape measure, measure from the arms of the chandelier to the point where you want the ornament to hang. Take that measurement, double it and add 4 inches for tying. For instance, if you want an ornament to hang down 6 inches, cut 16 inches of ribbon per ornament (6 doubled, plus 4). If, for stylistic purposes, you want the ornaments to hang at different lengths, measure the ribbon accordingly -- doubling the desired length and adding 4 inches for each ornament.
Step 3
Thread a length of ribbon through the loop at the top of each ornament, where the ornament hook would normally go. Pull the ribbon through until there are equal lengths of ribbon on either side of the loop. Cross both ribbon ends over the arm of the chandelier where you want the ornament to hang. Double-knot the ribbon and tie a bow to secure it to the chandelier, as if tying a shoe. Let the ornament hang freely.
Step 4
Continue tying the ornaments to the chandelier where you want them to hang, knotting them securely and finishing with a decorative bow.
Tip
It is visually pleasing, according to the rules of design, to hang an odd number of ornaments from your chandelier.
You can place matching ornaments elsewhere in the room, such is in a decorative bowl on the coffee table, to further tie the ornaments into the room's decor.
Warning
Make sure the knots in your ribbons are tied tightly, so the ornaments hang securely and won't fall.