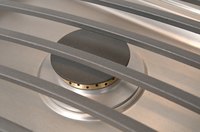 The burners on your gas stove suffer the daily spills, stains and accidents of cooking for your family. After several weeks and months, a burnt residue forms that will transfer to your pots and pans. Scrubbing the grates is a quick way to remove superficial residue, but it may leave behind the deeper stains. Use a combination of baking powder and other safe products to create a soak that slowly dissolves the burnt food stains from your metal stove grates.
Things You'll Need
Plastic scrub brush
1/2 gallon warm water
1/2 cup baking powder
Remove any large chunks of burnt food from the metal grates, using a plastic scrub brush. Hold the grate over a garbage can to create less of a mess.
Pour one-half gallon of warm water, one-half cup of baking powder and 2 tablespoons of lemon juice into a plastic basin or clean sink.
Submerge the grates in the baking powder solution. Allow the grates to remain in the water for at least eight hours, or overnight.
Lift the grates from the water and scrub them with a plastic scrub brush to remove the loosened burnt food stains.
Rinse the grates under a warm tap before drying them with a rag and reinstalling them on the stove.