Things You'll Need
Rags or brush

Spray lubricant

Vacuum cleaner

Replacement rollers (optional)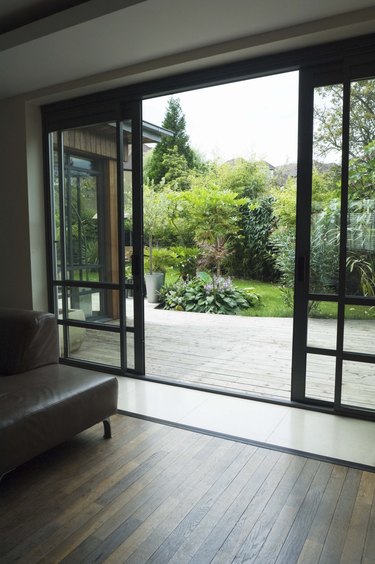 Sliding glass doors allow more natural light into a home. No one enjoys the sound of squeaking sliding doors, however. In most cases, getting rid of that annoying squeak is a simple repair job that can be done in very little time.
Step 1
Visually inspect the track for debris such as dog hair, leaves, or dirt. Clear it away with a rag or brush.
Step 2
Open the doors as far as they will go and apply a spray lubricant along the length of the track as well as on the roller wheels. Spray lightly in a smooth motion to avoid overspraying.
Step 3
Open and close the doors several times to distribute the lubricant along the track and to check for squeaks. If the sliding door continues to squeak, follow the next step.
Step 4
Have someone help you to lift one of the doors out of the track and gently put it aside. Check the track again to see if there is anything impeding the door's ability to slide easily. Vacuum or brush away any debris.
Step 5
Check the rollers and clean them as well. Over time, the plastic can become worn, creating friction when the doors are opened and closed. Replace the rollers if necessary and place the door back on its track.