Things You'll Need
Degreasing cleanser

Sponge

Drop cloths

Rosin paper

Painter's tape

Screwdriver

Fine grit sandpaper

Damp cloth

High gloss latex paint

Foam paint roller

Paintbrush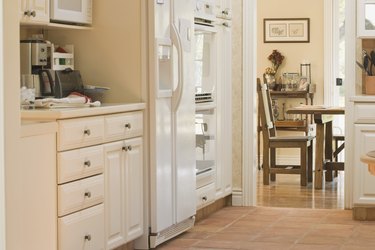 The easiest and cheapest way to update kitchen cabinets is with paint. In many cases, you can paint your entire set of kitchen cabinets for less than $100. Old kitchen cabinets are often brighter and cleaner looking after being painted. One of the problems many homeowners have with painted cabinets is the marks the paintbrush leaves behind. A paintbrush alone may not leave a smooth finish on the cabinets, but you can have painted cabinets without brush marks if you use all the appropriate tools.
Step 1
Clean the cabinets with a degreasing cleanser and sponge. Let the cabinets dry completely.
Step 2
Lay down drop cloths on the floor beneath the cabinets. Cover the cabinet countertops with rosin paper and painter's tape.
Step 3
Remove the doors from the cabinets. Unscrew the hardware from the cabinets with a screwdriver. Set aside the knobs, hinges, and screws. "Don't skimp on this step just to save a little time," cautions home improvement expert Ron Hazelton. He adds, "You will be much happier with the results when all of the hardware is crisp and clean against the newly painted cabinet doors and drawer faces."
Step 4
Dull the finish of the cabinets by sanding them with fine grit sandpaper. Wipe away the sanding dust with a damp cloth.
Step 5
Paint the cabinets and cabinet doors with high gloss latex paint. Pour a small amount of paint into a paint tray. Roll the foam paint roller into the paint. Use the foam paint roller to paint the cabinet doors. Use a paintbrush only to reach into the corners of the cabinet. The foam roller will eliminate the possibility of brush strokes in the paint. Wait for the paint to dry and add a second coat.
Step 6
Wait for the paint to dry and harden before touching the cabinets. This usually takes about 24 hours, Hazelton says. Then you can reattach the doors and hardware.