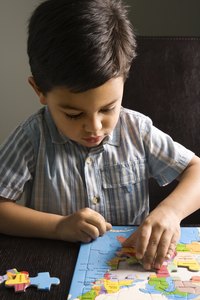 Decoupage is a craft technique derived from the French word decouper, which means to "cut out." Historically, decoupage has been used by artists to decorate tombs, create paintings and add design elements to furniture. Today, decoupage is used not only with paper cut-outs as it has been used historically, but with mosaic tiles, and even jigsaw puzzles. Use decoupage to turn one of your favorite puzzles into framed art or a stylish serving tray.
Things You'll Need
Jigsaw puzzle
2 cardboard sheets or 1 serving tray
Decoupage paste
Small paintbrush
Clear spray craft sealant
Assemble a jigsaw puzzle on top of a cardboard sheet equal to its measurements. Decoupage the puzzle on the cardboard sheet directly, or use the sheet to transfer the completed puzzle onto a serving tray equal in measurement to the puzzle.
Use a small paintbrush to apply a layer of decoupage paste onto the face of the puzzle. Allow the decoupage medium to dry for about 30 minutes. If decoupaging a serving tray, apply two more coats of decoupage medium to the puzzle face, allowing the medium to dry in between coats. Preserve and seal the puzzle by spraying a clear sealant onto the surface of the tray, sealing the puzzle to the tray.
Prepare a puzzle for framing by placing a second sheet of cardboard on top of the puzzle after the first coat of decoupage medium dries. Carefully flip the puzzle over so the back is facing up. Tape strips of tan painter's tape to the back of the puzzle vertically and horizontally. Finish with two strips of tape that make an "x" across the back middle of the puzzle.
Cut the tape ends so they do not run over the back of the puzzle and show through to the front. Place the piece of cardboard on top of the back of the puzzle and carefully flip it back over. Remove the piece of cardboard from the front of the puzzle so that the puzzle picture shows.
Apply two more coats of decoupage medium to the front of the puzzle. Allow it to dry completely then carefully place it beneath a mat and into a frame.