Things You'll Need
Measuring tape

1-inch PVC

PVC cutters

T-shaped PVC connectors (4)

Wire or plastic mesh

Cable ties

Retractable curtain rods (2)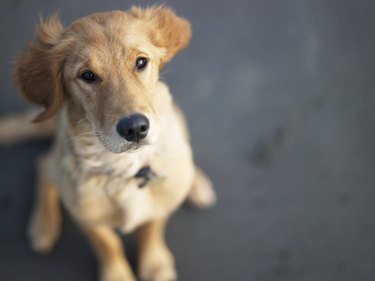 A PVC pet gate is a simple and inexpensive way to limit your pet's domain to certain areas of the house. Limiting the areas to which your pet has access is a way to keep your pet away from plants and other substances that could be hazardous if ingested, and it is also a simple way to limit the amount of trouble your pet can get into while you are away. PVC pet gates can be constructed in a matter of minutes, and they can be installed quickly and even moved from room to room if necessary.
Step 1
Use a measuring tape to measure the width of the doorway you want to block with your pet gate. You may customize the height of your pet gate to suit your particular pet, but the standard height for pet gates is around 26 inches.
Step 2
Cut two pieces of 1-inch PVC pipe with a pair of PVC cutters to a length of 26 inches. These pipes will serve as the vertical bars for your pet gate. Cut two more pieces of 1-inch PVC to about 4 inches less than the width of the doorway to serve as the horizontal bars for your pet gate.
Step 3
Assemble the four pieces of 1-inch PVC in a rectangular shape, connecting them at the corners with T-shaped PVC connectors.
Step 4
Cut two sheets of plastic or wire mesh to dimensions that are just a little smaller than your pet gate. Lay the pet gate flat on the ground, sandwiched between the two sheets of mesh, and secure the mesh to the frame using cable ties. Secure the mesh with a cable tie placed every 3 to 6 inches.
Step 5
Slide a retractable curtain rod through both the top and bottom of the pet gate so the ends stick out of the T-connectors. Use a pair of curtain rods 2 to 4 inches longer than the width of the doorway so they will contract enough to keep the pet gate in place.
Step 6
Install the pet gate by holding it upright in front of the doorway, angled inward so the ends of the curtain rods on one side are flush with the wall. Retract the curtain rods from the other end using your hands and slide the pet gate into the doorway. Release the curtain rods, allowing them to extend and hold the pet gate in place.
Warning
If your pet is prone to chewing, wire or plastic mesh may not be a suitable option to cover your pet gate. Instead, try sewing a fabric sleeve to fit over the entire pet gate with openings at the top and bottom for the retractable curtain rods. This may help to discourage your dog from chewing on the gate, because there will be fewer openings for the dog to get its teeth into.