Things You'll Need
Face mask

Broom

Dustpan

Shop-vac

Mop

Mop bucket

Rags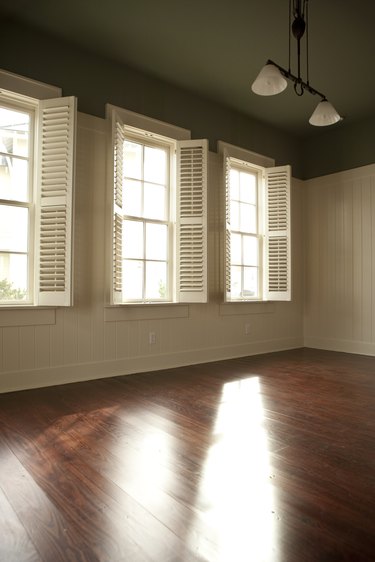 New construction leaves debris and dust from sheetrock installation over every surface. Laminate flooring is durable, versatile and cleans easily. After the dust has been removed from the surfaces of the molding, mantels, window sills and door frames, the floors are cleaned last. Keep your new laminate floors looking new, beautifying your home for years to come by getting the initial cleaning done right.
Step 1
Sweep the dust and debris into manageable piles. A soft brush broom is ideal and nonabrasive for laminate floors. Use a dustpan to pick up anything too large for a shop-vac. Use a face mask for this task.
Step 2
Vacuum the area with a shop-vac. Examine the tops of the floorboards for accumulated sheetrock dust and use the attachments for corners and other hard to reach places.
Step 3
Add warm water to the mop bucket. Wring out the mop until it's only damp and mop the area you vacuumed. Water is the only thing you need for a new laminate floor. Laminate flooring is finished in a resin-coated cellulose that doesn't require soap-based cleaners. Don't allow water to pool or sit on laminate flooring.
Step 4
Spot clean any areas on the laminate floors that you may have missed, using a clean, damp rag.