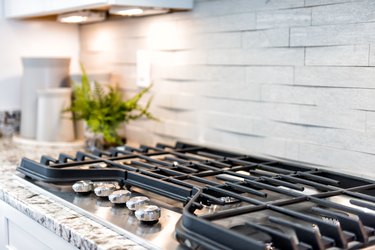 Stainless steel cooktops are not that hard to keep clean and shiny, but sometimes, stains get burned onto the surface. Those brown marks do not make for a good contrast against the silver finish. It is best to remove them as soon as possible because the longer you wait, the more difficult it will likely be to remove.
Keeping Stainless Steel Cooktops Clean
Luckily, routine stainless steel cooktop care is not that complicated. Check the cooktop's grain direction first because this shows the direction in which to clean. Just as when cutting meat, you do not want to work against the grain.
To make a cleaning solution at home, add a couple drops of mild dish soap into some warm water until it is nice and bubbly. You may put this in a clean spray bottle so it's on hand when you need it; just give it a few shakes whenever you need to use it. Spritz the countertop and use a sponge to clean with the grain either left/right or up/down. Then, wipe off the surface with a microfiber cloth or paper towel. If you want to add some shine, you can use a silicone-based spray or a bit of lemon oil.
A spray cleaner like Windex will also work on stainless steel cooktops. This does not need to be rinsed off with water and adds some sparkle to the surface. It can be wiped off with clean cloths and paper towels. Stainless steel cooktops should be cleaned at minimum once every two weeks.
If you have burnt-on stains on your stainless steel cooktop, first try removing any loose debris with a damp sponge, being careful not to scratch the surface. Then, make a paste out of three parts baking soda to one part water. Mix this and apply it to the stains with a sponge, soft brush or paper towels.
Allow this paste to sit for at least two hours and then spritz on some vinegar. This should dissolve the burn stains and make them easy to clean. Wipe down the area with clean water and dry it.
Grease can also be tough to remove from stainless steel cooktops. For these stains, you will need one more cleaning agent: hydrogen peroxide. This is used instead of the water when you make your baking soda paste, but the ratio is the same: three parts of baking soda to one part hydrogen peroxide. Apply it to the cooktop in the same manner and leave it there for two hours.
You can either spray on the vinegar or apply it with a dry towel. Wipe it all off with a damp towel and always make sure to remove all of the baking soda. The vinegar in the solution pulls double duty and will make the cooktop shiny.
Stainless Steel Cooktop Cleaning Tips
Some stainless steel cooktops have clear-coat finishes. That means that some cleaning products can damage them. Do not use abrasive cleaning products, like Comet, abrasive cleaning pads or steel brushes, on stainless steel. Bleaching agents, like chlorine and compounds that have chloride, should also not be used.
You can also try oil and vinegar to remove heat stains, watermarks and fingerprints from stainless steel cooktops. However, make sure you check the cooktop manual before trying this method because it is not compatible with stovetops that have oleophobic finishes. Otherwise, combine equal parts of these ingredients and try using a little bit at a time. Wipe it off with soapy water.