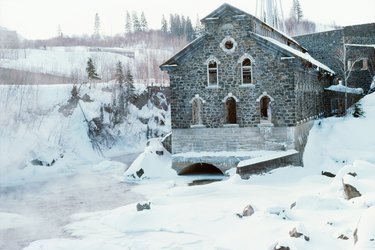 Dealing with snow-covered driveways and sidewalks is terrible enough, but when your hard-starting Toro snowblower doesn't turn on, that puts a bit more work on your plate. Approaching it logically and troubleshooting the most common reasons for the problem makes sense as opposed to throwing up your hands and buying a whole new snowblower. Start with the most straightforward steps and when one doesn't work, try the next one.
How Toro Snowblowers Turn On
Snowblowers can be made with manual recoil (hard-starting) or electric starters. These are self-contained within the snowblowers, so you don't have to plug them in. Hard-starting ones are known to be very reliable, but you have to pull a string. This pulling should not require too much effort and usually works after two or three light pulls. If you find yourself pulling it multiple times on top of that, you might have an issue.
To turn on a snowblower, you may need to open the fuel shutoff valve first (with two-stage Toro snowblowers) before putting in the ignition key. Then, push the primer bulb. If it is at least 15 degrees Fahrenheit, press the bulb a few times; push it four times if it is below 15 degrees. Toro recommends doing this without gloves on for more consistent priming. Now, pull or rotate the choke to "on," adjust the throttle to fast and either push the electric starter button or pull the recoil starter for a hard start to get the engine going.
Troubleshooting a Hard-Start Snowblower
If the snowblower is not working, you may have forgotten to put the choke in the correct position. It should be closed while starting, and sometimes, people don't realize this. When the engine is cold or if it is under 30 degrees, keep the choke fully closed. If it is warmer, only close it half or three-quarters of the way. Do not close it if you need to restart it less than five minutes after the engine is off; otherwise, do a standard start from scratch and remember to always open your fuel shutoff valve when starting and restarting.
Stop what you are doing whenever you smell gas fumes during a hard start. You might have overprimed, which can cause the snowblower to flood. Close the fuel shutoff valve if there is one and shut off the choke. Now, pull the recoil three times, which should move that extra gas out of the engine. Give it at least 15 minutes before trying to start the blower again.
More Hard-Start Snowblower Troubleshooting
With gas snowblowers, the fuel could be the source of the problem. When gas sits idle for long periods, it can thicken and prevent the blower from starting. Siphon out the old gas, dispose of it properly and fill your tank with new gas. It's an excellent idea to add a fuel stabilizer at this point, which can liquefy any remaining gunk in the tank. If the blower doesn't start right away, give the stabilizer an hour or two to dissolve and try again.
Another suggestion is to look at the fuel line that extends from the gas tank to the carburetor. These can harden and crack; if yours looks cracked or hardened, you should replace it. You can also clean and replace the spark plugs, replace the air filter or clean the carburetor. If you cannot fix the problem independently or have no mechanical skills, the best choice might be to take it to a Toro dealer. This might be less costly than buying a whole new snowblower.