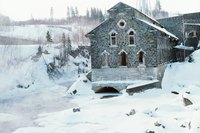 Toro snowblowers feature a Briggs & Stratton small engine. These snowblower engines may "hard start" and run inefficiently due to a carburetor leakage problem or due to old gas in the fuel tank. You can troubleshoot your Toro snowblower and resolve your hard-starting problem even if you have no experience with operating on snowblowers. Sending the Toro snowblower to the manufacturer is not required in order to get your snowblower back to its optimal working condition.
Things You'll Need
Turn on the Toro snowblower, and allow any old gas that may have been left over from a previous season to burn off. Then, fill the fuel tank back up with fresh fuel once you are done. This may fix the problem with hard starting.
Check the Toro snowblower's carburetor if hard-starting problems continue after troubleshooting the fuel tank. The carburetor bowl can be found about halfway up the right side of the engine block. Observe it, and see whether it is leaking.
Tighten the nut on the underside of the Toro snowblower's carburetor bowl if the carburetor is leaking. Use a socket wrench to accomplish this.
Drain the carburetor bowl entirely if problems persist. Position a pan under the carburetor bowl, and then loosen and remove the nut on the underside of the bowl entirely with your socket wrench.
Wait as the fuel and liquid fully drain from the bowl into the pan.
Set the nut back into place on the underside of the Toro's carburetor, and then tighten it into place with your socket wrench.