Things You'll Need
Newspaper

Masking tape

Pringles chip canister

Flour

Salt

Bowl

Scissors

Acrylic paint, colored

Paintbrush

Acrylic glaze, clear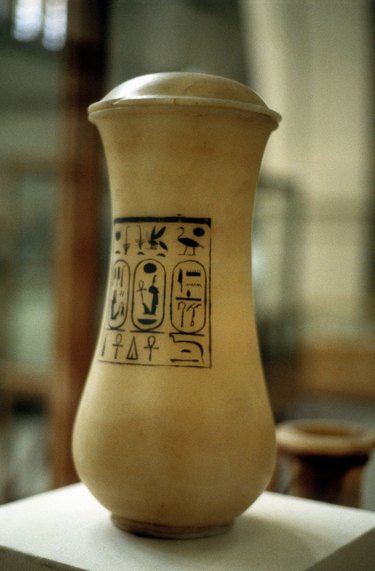 When you are teaching children about Ancient Egyptian culture, you can make the lesson more exciting and interactive by providing the kids with a hands-on craft that is related to the material. For example, instead of just reading to the kids about Egyptian canopic jars, show the children how to construct their own canopic jars using a few basic craft materials. This allows the children to better understand how real canopic jars may have looked during the times of the great Pharaohs, when they were used to store the internal organs of people who were being mummified.
Step 1
Wad up newspaper into a four-inch ball, then form the ball to resemble an animal head. Select any animal head you prefer, such as a bird, dog or cat.
Step 2
Tape the newspaper animal head onto the top of a Pringles chip canister using masking tape.
Step 3
Combine one cup of flour, one-half cup of salt and one cup of water into a bowl. Stir the mixture with a spoon for two minutes to combine the ingredients completely.
Step 4
Cut more newspaper into strips measuring two inches wide and six inches long.
Step 5
Dip the strips into the papier mache mixture, and then drape the strips over the canister. Cover the canister with four layers of papier mache strips.
Step 6
Apply more papier mache strips onto the top of the canister, including the animal head. Cover the top with four layers of papier mache. Allow the entire canister and head to dry for 6 hours.
Step 7
Paint the entire canopic jar with colorful acrylic paint. Allow the paint to dry for 30 minutes.
Step 8
Paint a layer of clear acrylic glaze over the entire canopic jar, then allow the canopic jar to dry for an additional 30 minutes.
Warning
Keep sharp scissors out of the reach of children.