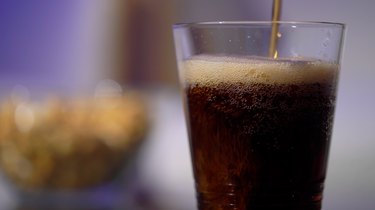 Soda pop comes in a wide variety of flavors and colors, and sometimes, it gets spilled on chairs, tables, clothes, floors and walls. Does Pepsi stain? It certainly can, especially if you don't clean it up before it sets into fabric or other material. Fortunately, there are ways to get it out without ruining your favorite cushion, shirt or wallpaper.
How to Get Drink Stains Off Walls
Baking soda fights stains naturally and can be a real lifesaver if someone splattered some dark-colored pop on your painted walls or washable wallpaper. To make a baking soda wall cleaner, mix a 1/2 cup baking soda with 1/4 cup water until it has a pastelike consistency. Use a clean, damp sponge to gently work the paste into the stain. Only use a little bit at a time until the stain starts to come out. Rinse the sponge with more clean water and remove the paste. Then, you can dry it with a clean cloth.
If you have soda stains on nonwashable wallpaper, you can try dabbing at them with a bit of mild dish detergent and water. Test an inconspicuous area first because with nonwashable wallpaper, the stains can smear. A Magic Eraser might be better but test it first. Warm, soapy water usually gets soda stains out of wallpaper.
Dark sodas can leave noticeable stains on walls but so can clear ones, like Sprite. All sodas will oxidize over time and leave marks, and on top of that, the sweet smell can attract bugs. The problem is that you might not notice a Sprite stain until it starts to discolor your wall. You might have to go over the mark a few more times until it comes out.
Water stains can also leave marks on walls. To remove these from the wallpaper, add 1/4 cup of bleach or white vinegar to 1 cup of water. Dab a little bit onto the wall in a hidden area, wait 10 minutes and then wipe it off with a damp sponge. You could use this on the water stain if that did the job. Whenever you are cleaning a wall, be sure to dry it well with a towel to prevent mold and mildew from forming.
How to Remove Coke Stains
When Coke gets into carpeting or furniture, first blot up as much as you can with a clean white cloth. Try a general-purpose cleaner and see if that works. A tannin stain remover is the best choice, so you might want to get some if you don't have any in your house. Be sure to read the package directions and test it on an inconspicuous area first. You can accomplish Dr. Pepper stain removal in the same way.
If you have dark soda stains on clothing, pretreat the garment with vinegar or lemon juice and let it rest for five minutes. You can gently work it into the material with an old, soft toothbrush. Rinse the stain with cool water to get out the vinegar or lemon juice and then launder as usual. Check the garment before you put it into the dryer and if the stain is still there, treat it again with an enzyme-based stain remover.