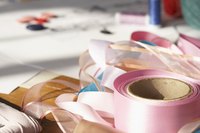 Ribbons are used for everything from dressing up a lampshade to making a bow on a package to accessorizing a little girl's ponytail. Some ribbon, such as wire and grosgrain, stays stiff when tied; however, satin ribbon, which is soft and flimsy, needs help if you want it to stay taut.
Things You'll Need
Stiffening spray
Hair dryer
Lay newspaper down on an even surface.
Place the ribbon(s) onto the newspaper. Straighten and smooth out the ribbon.
Spray the hair spray 6 inches away from the ribbon, starting at the top and spraying evenly toward the bottom. Allow to dry for five minutes. Flip the ribbon over and spray the back the same way. Wait 15 minutes.
Spray the ribbon-stiffening spray 6 inches from the ribbon, beginning at the top and spraying to the bottom. Turn the hair dryer to low heat and dry the ribbon evenly for five seconds. Wait three minutes. Turn over the ribbon. Repeat on the other side.