Things You'll Need
Wax or petroleum jelly

Latex paint

Paint thinner

Soft cloth

Paintbrush

Strong coffee

Sanding block

Scraping tool

Chains

Hammer

Water-based protective finish (optional)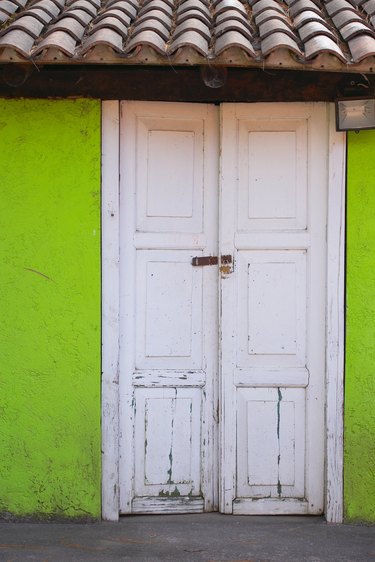 Distressed painted doors add a country aesthetic to the home and make useful props for movies and performances. Distressing a door involves beating it with various objects, scuffing the paint or building up layers of false dirt and finishes. Depending on your artistic vision, choose one or more distressing methods to give your white painted door an antiquated, worn finish.
Step 1
Coat door edges, raised areas and areas that would naturally show wear over time with a thin coat of wax or petroleum jelly to prevent paint from adhering.
Step 2
Mix latex paint with paint thinner to achieve the consistency of ink. Paint the door with a thin coat of this wash. Allow the paint to dry for two hours, then run over it with a wet soft cloth to reveal the bare wood or the paint underneath. If your door is already painted white and you don't want a layered paint effect, skip this step.
Step 3
Paint strong coffee near the base of the door, around edges and in cavities to mimic the appearance of accumulated dirt rubbing onto the door over time.
Step 4
Sand and scrape the door where it would naturally show wear over time, using a sanding block. This will give the appearance of paint chipping off.
Step 5
Strike the door sparingly in strategic areas, using a hammer and chains, to make pitted marks. Five or fewer of these pits will be fine for a natural distressed look.
Step 6
Coat the door with a water-based protective finish to seal and protect the paint if you don't want it to peel and flake naturally.