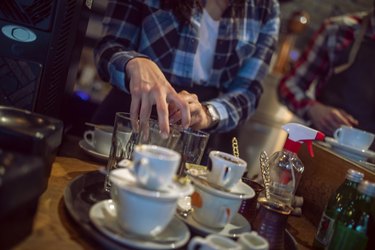 For a good number of people, the least fun part of cooking and enjoying a meal is washing dishes. That task becomes even more inconvenient if the dishes are greasy, but luckily, there are several methods for how to wash oily dishes. A crucial factor to remember is that you should never wash excess oil down your kitchen sink drain or put very oily dishes in the dishwasher. Oil can cause a clog or cause severe damage to kitchen plumbing. That's why it's not enough to have simply cleaned the dishes; you need to know how to cut grease.
Keeping Dishes Clean With Salt
You'll need paper towels, coarse salt, half of a lemon and a sponge for this cleaning method. Believe it or not, salt is very effective for getting dishes clean if they have been caked in grease. First, scrape all the food off the plate and into the garbage. Then, take paper towels and wipe off as much of the grease as possible. Discard the paper towels in the garbage. Doing this prevents extra grease from going down the drain and makes your job easier.
Spread a thin layer of the coarse salt onto the greasy dishes or pans and allow it to sit for about 10 minutes. Then, use the cut half of a lemon to rub in the salt and let the dishes sit for another five minutes. Use a sponge to gently wipe away as much of the grime as possible and then rinse. You can try either handwashing the dishes in water or putting the items in the dishwasher to finish the cleaning process.
How to Get Grease Off Dishes With a Soak and Scrub
You'll need paper towels, baking soda, a nonabrasive sponge and grease-cutting dish detergent for this method. Once again, start by scraping all of the food into the trash can and then use dry paper towels to wipe off as much oil as you can to protect your kitchen pipes. Next, you'll be washing dishes with baking soda. Then, plug the drain in your sink and fill it with hot water. Add two heaping tablespoons of baking soda and mix well.
Submerge your oily dishes into the water and leave them to soak for about half an hour. Make sure that they aren't stacked on top of each other and have room for the water to penetrate. After 30 minutes, rinse the dishes and use a nonabrasive sponge to scrub off any remaining oil. Dry them or run them through the dishwasher for an extra cleaning layer.
Instead of baking soda, you can use a grease-cutting dish detergent to soak the oily kitchenware. Use a few generous squirts – about a teaspoon in all.
Preventing Excess Grease on Dishes
Several methods work to prevent too much grease from accumulating on dishes in the first place, but your results may vary. First, always follow your recipes as correctly as possible, especially when oil is involved. For cleaning and health purposes, you don't need to add too much oil to your food. If you're baking or using cookware, try laying down a layer of parchment paper or aluminum foil underneath the food, as this can work to absorb some of the excess oil that occurs during cooking. You can throw away the paper or foil when you're finished along with all the grease on it.
If you have so much used grease or oil that you can pour it into a container, you should always do that instead of washing it down the drain. After pouring it into the container, wait for a while to let it harden and then throw it away. Never put hot grease into a plastic container.