Things You'll Need
Wreath

Ribbon

Scissors

Hot glue gun

Floral wire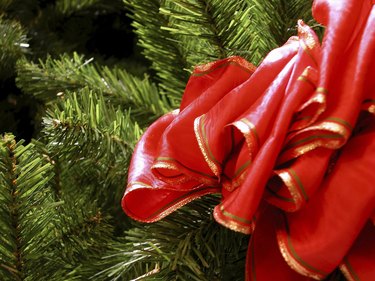 If you are planning on making a wreath to decorate your home for the holidays or give to a loved one as a gift, add ribbon to it for a more appealing final result. Choose from a wide variety of colors and sizes of ribbon that will coordinate well with the style of wreath you are making. Traditionally, ribbon is added through the form of a bow, but there are many other ways to decorate wreaths using ribbon.
Step 1
Tie pieces of ribbon into small, medium or large bows to add to the wreath. Bows can either be glued on to the wreath using a hot glue gun or attached with floral wire. To use floral wire, cut a piece of the wire and slide it through the knot in the middle of the bow, then use that to wrap it around the wreath form; this will keep the bow secured to the wreath.
Step 2
Wrap longer pieces of ribbon around the wreath like you would a garland by first gluing the end to a back part of the wreath and begin wrapping it around the wreath, gluing every so often to keep it in place.
Step 3
Cover a foam wreath with wide ribbon for a more modern-style wreath. Start by removing a long length of ribbon from the spool and gluing one end to the backside of the wreath. Start wrapping it around the wreath, gluing each time it reaches the back of the wreath. You will wrap it similar to the garland style, but the ribbon will be more close together so that the foam beneath does not show.
Step 4
Cut smaller pieces of ribbon into shapes to be glued onto your wreath such as flowers or leaves. Start by drawing a flower shape or tracing a stencil onto a piece of paper to make a template. Cut out the template and use it to cut flower shapes from the ribbon, attaching them to the wreath with a hot glue gun.