Things You'll Need
1-inch internal diameter Sch 40 PVC pipe (three 10-foot pieces, plus one per additional tier)

1-inch 4-way PVC T-connectors (four, plus four per additional tier)

1-inch 3-way elbow PVC connectors (four)

1-inch PVC T-connectors (four)

1-inch PVC caps (four)

PVC pipe glue

PVC cutters or hacksaw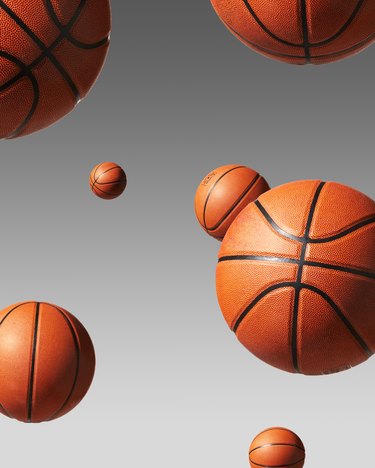 The average indoor basketball court has several balls on hand for both casual and serious play. Keeping track of all of them can be a hassle, especially in high traffic areas. Racks can be bought, but most of them are limited in storage area and can be expensive, costing as much as $100 or more. With some PVC pipe and a few tools, you can build your own customizable basketball rack.
Step 1
Cut several pieces of the PVC pipe in the following dimensions and quantities: 3 feet (four), 12 inches (four), 7 inches (six), 6 inches (four) and 4 inches (four). Additional tiers will require two additional 3-feet pieces, four 12-inch pieces and two 7-inch pieces.
Step 2
Connect a 6-inch and a 7-inch piece of PVC to the inline joint of a T-connector. Attach a second T-connector and 6-inch piece in line with the first, then attach 4-inch sections to the remaining openings. Attach caps to the open ends of the 6-inch pieces. The 6-7-6 sequence should form a straight line.
Step 3
Connect the inline joint of a 4-way connector to both of the 4-inch pieces, then connect the two 4-way connectors with another 7-inch section of pipe. Attach a 12-inch section to both sides to be in line with the 4-inch connection. The panel should look like a low track hurdle: a wide base, 4-inch legs with a crossbar at the top, and 12-inch bars sticking out above the assembly.
Step 4
Attach a 3-way connector to the tops of both 12-inch sections, then place a 7-inch piece of pipe between them. All of the open ports on the connectors should face the same direction. Glue all joints according to the glue manufacturer's directions and allow to set. Assemble a second panel using this process for the opposite side. Additional tiers also can be added.
Step 5
Attach a 3-foot pipe between each pair of open connections, so that the assembly forms a two-tiered rack. Glue the joints and allow them to set before using the ball rack.
Tip
Use 4-way connectors to add an extra tier. The rack can have up to four tiers before the height may pose a problem.
A standard basketball is about 9.3-inches in diameter. The depth of the rack will be about 8 inches, including the connectors. The balls will sit low in the rack, but won't fall through unless excess pressure is applied. Each tier can hold three to four balls.
Warning
Glue fumes can be hazardous to breathe, and glue on the skin or in the eyes can cause severe irritation. Use caution and follow the package directions for treatment if necessary.