Things You'll Need
3 1/3 cups flour

1 1/2 cups of corn starch

Mixing bowl

Spoon

1 1/2 cups water

Saucepan

1 tablespoon petroleum jelly

1/2 cup of salt

Pencil

Paint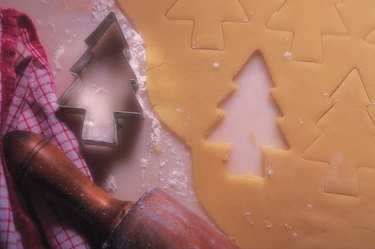 Gather the kids around the table this holiday for a Christmas ornament craft. The kids can make unique Christmas ornaments to hang on the tree, and there's no baking involved, so you can work on your Christmas cookies at the same time. The necessary ingredients are everyday items like flour, corn starch and petroleum jelly. Bring the family together for Christmas with this fun craft.
Step 1
Combine flour and corn starch in a large mixing bowl and mix well.
Step 2
Bring the water to a boil on the stove.
Step 3
Mix the water, petroleum jelly and salt together in a separate bowl. Stir well until the salt is completely dissolved.
Step 4
Add the corn starch and flour mixture to the liquid mixture and stir until a thick dough forms.
Step 5
Roll the dough into a large ball.
Step 6
Knead the dough for five minutes.
Step 7
Roll the dough out and use cookie cutters to create shapes, or hand-form shapes like twisted candy canes and snowmen, using water as glue to hold the shapes together. Use the eraser of a pencil to make a hole for hanging.
Step 8
Allow the dough to dry for two to three hours.
Step 9
Decorate with paint, glitter and any other decorations you wish to use.
Tip
Set your ornaments outside to speed up drying. Add food coloring to your dough to give it color. Store leftover dough in a zipper-top bag in the refrigerator.