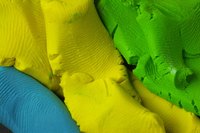 Children gain a sense of accomplishment and satisfaction when parents or teachers appreciate their works of art. You can make play dough from ingredients including flour, salt and water for a soft substance children can easily manipulate with their hands. Younger children enjoy playing with this substance to spark imaginative play and strengthen the muscles of the fingers and hands. You can use play dough repeatedly or bake special creations in the oven to harden the dough. Hardening the play dough and caring for it properly preserves the play dough.
Things You'll Need
Baking pan
Wax paper
Metal spatula
Oven mitts
Wire cooling rack
Preheat the oven to 300 degrees F. Line a baking pan with wax paper.
Slide a metal spatula underneath the play dough creation. Transfer it to the wax paper-covered baking pan.

Place baking pan in the preheated oven. Bake the play dough for one hour.
Remove the pan from the oven, using oven mitts to protect your hands from the heat. Allow the baked play dough to cool on the baking pan for 10 minutes.

Use the metal spatula to move the baked play dough from the baking pan to the wire cooling rack. Allow the play dough to remain on the cooling rack until completely cooled.