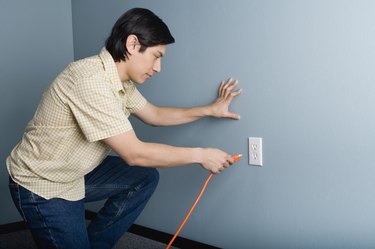 The dancing flicker of light from a fireplace as it illuminates the room produces an almost hypnotic effect. Electric fireplaces provide a solution for those who enjoy relaxing in front of one but aren't fortunate enough to have this feature in the home. Hiding the electrical wires from view creates a more realistic appearance.
Step 1
Run the fireplace electric wires under the carpet edge between the back of the fireplace and the wall outlet. Lift the rug and tuck it under to hide most of the wire from view.
Step 2
Use cord raceways to hide the fireplace wires. Measure the length of the wire and cut the plastic cord raceway down to size. Thread the fireplace wires through the raceway and stick it along the baseboard. Paint the raceway to blend with the background.
Step 3
Surround the electric fireplace with large pieces of furniture such as bookshelves. Place them directly on either side of the fireplace so the cord is concealed in the back.
Step 4
Paint the fireplace electrical wires to blend with the surrounding space as a quick solution for camouflaging their appearance.
Step 5
Plan the location of the electric fireplace so it's right in front of the outlet. This allows the actual fireplace unit to hide the wires.