Things You'll Need
Paint brush, 4-inch wide

Wood blank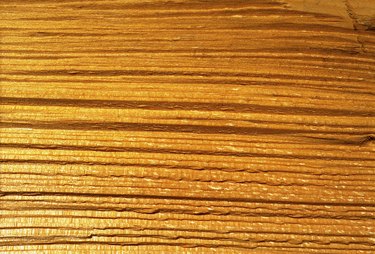 You can raise wood grain with a small brush and water. It's a technique used by woodworkers to impart an antiqued look to wood, or to repair damaged wood. When wood gets wet, wood fibers swell, but they don't all swell evenly. The soft grain of the wood swells much faster and higher than the solid grain. This results in a grain pattern that is accentuated with valleys and peaks. It is used to impart an antique look to signs or even furniture.
Step 1
Squirt a narrow stream of water on a paint brush at irregular intervals. You should have wet areas alternating with drier areas.
Step 2
Stroke the face of a wood blank. Moving the brush across the wood parallel with the grain in single line as if you were painting the wood with water. Skip over slightly, and brush along the surface of the wood again leaving 1 inch between the two passes. Stroke across the surface of the wood with the brush.
Step 3
Lean down so that light reflects off the surface of the wood. You should see small rivulets of water randomly streaked along the surface of the wood. Wait one hour for the water to evaporate.
Step 4
Brush another coat of water onto the wood if the grain isn't sufficiency raised. Wait one hour for the water to evaporate.
Step 5
Sweep your hand over the wood. Lean down and examine it. If the grain still is not sufficiently raised, paint a heavier coat of water on it randomly as you did before. Wait 24 hours and repeat if necessary until the grain is raised to your liking.
Tip
Soft wood grains will raise better than hardwoods, but any grain will raise. For extreme grain raising, use a sandblaster to blow away soft grain, leaving the hard grain standing. You can also repair gouges and deep scratches by brushing them with water. After they swell up, sand them flush.
Warning
If you have saturated the wood, place a fan on it and let it dry for 72 hours.