Things You'll Need
2-by-4 planks

Hammer and nails

Circular saw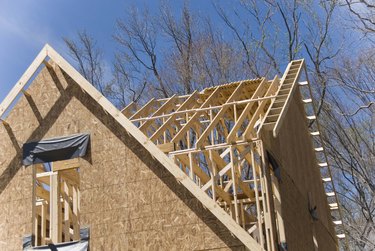 Trusses are building support members that allow you to span gaps while evenly distributing weight across them. Ladder trusses, or Vierendeel trusses, are so named because of their resemblance to a common ladder. These are commonly used in roof framing to give rigidity to overhangs. You can easily build a ladder truss from building lumber to nearly any size or specification. Ladder trusses can be made from wood or steel, depending on the needs of your building.
Step 1
Determine the length and width of your ladder truss.
Step 2
Select two 2-by-4 planks that are as long, or longer than the length you would like your truss to be. If necessary, cut them to length using a circular saw.
Step 3
Cut a number of 2-by-4 plank supports the width you would like the truss to be, minus 3 inches to allow for the two lengthwise 2-by-4s. Cut enough 2-by-4 supports to allow you to space one every 12 inches along the length of your truss brackets from Step 2.
Step 4
Lay the two truss brackets from Step 2 on the ground, parallel to each other. Mark the edge of both of them where the supports will be installed. Mark onto the edges of the brackets where the center of each support will be installed, every 12 inches along the length of your truss brackets.
Step 5
Hammer two nails through the wide side of the truss brackets into the center of the ends of the 2-by-4 supports where marked along each edge of your truss.
Step 6
Lift and install the ladder truss where needed. Nail it into other structural members to secure it in place.
Warning
Always wear appropriate eye protection when working with power tools.