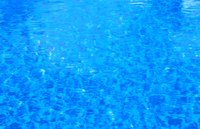 Having a crystal clear swimming pool requires lots of maintenance and a working filter. The Doughboy sand filters remove small particles of debris from the water and return the cleaned water back into the pool. Installing a Doughboy requires placing the filter is the correct position and connecting the hoses to and from the pool to the filter itself.
Things You'll Need
Patio blocks
Shovel
Level
Wrenches
Screwdriver
Filter sand
Plastic bag
Rubber band
Hose clamps
Wood boards
Set Up
Find a location to install the filter a few feet away from the pool. This will keep pool users from using the filter as a stepladder to get into the pool if it is an above ground pool. Locate the filter close to the pump and return hoses on the pool.
Create a flat surface for the filter to sit on using patio blocks, a shovel and a level.
Place the filter on top of the patio blocks.
Filling With Sand
Remove the bolts from around the flange of the Doughboy. Place the top of the filter tank carefully to one side.
Place a small plastic bag over the pipe sticking up from the center of the tank and hold it in place with a rubber band. This prevents sand from entering the undertank of the filter.
Pour in 130 lbs. of no. 20 grade filter sand. Spread the sand evenly around the tank, stopping approximately half of an inch from the edge of the flange.
Wipe away any sand off the flange and O ring and replace the top of the filter. Tighten the bolts to hold the top in place.
Connecting Hoses
Dig trenches for the hoses which connect the pool to the pump. These trenches should be in-ground to avoid tripping.
Connect a long piece of hose from the pool directly to the pump. The pump forces the water through the filter and back into the pool. Place hose clamps on each end of the hose and tighten with a screwdriver.
Connect the short piece of hose from the pump to the filter. The Doughboy filter has the pump with directions marked on the top, making it easy to identify. Attach a hose clamp to each end of the hose to hold the hose in place.
Connect a long piece of hose from the filter return to the pool. The return is on the opposite side of the sand filter. Tighten a hose clamp around each end to keep it in place.
Place wood boards over the pipe trenches. Do not cover the pool hose with dirt.