Things You'll Need
Heavy paper

Lampshade frame

Pencil

Scissors

Hot glue gun

Decorative ribbon

Fire-retardant spray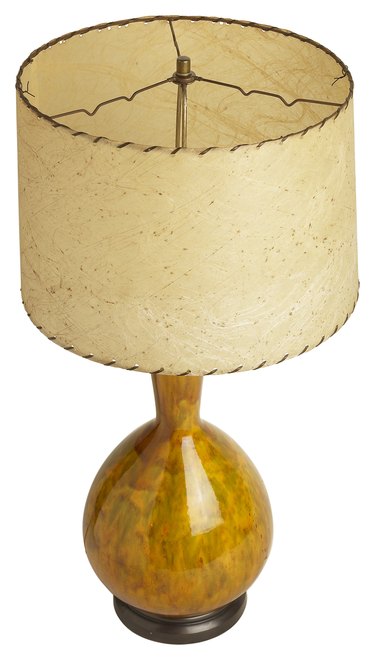 Homemade paper lampshades can enhance the design of a room by adding a decorative element and altering the color and brightness of the light. Colored paper lampshades cast a soft, tinted glow and patterns add visual interest. White paper shades give off a candlelit aura and look crisp and serene. When making paper lampshades, it is important to consider the heat a light bulb generates. Paper is highly flammable, so take steps to fire-proof homemade paper shades.
Make a Template
Step 1
Use the lampshade frame with the fabric shade removed to trace a template for the paper shade. Lay out a large sheet of scrap paper on a flat surface.
Step 2
Place the frame on its side on the paper. Hold the pencil against one point on the frame to trace the top edge of the frame while rolling it across the paper.
Step 3
Put the frame back in its original position on the paper and trace the bottom edge of the frame as it rolls across the paper, as you did with the top portion. The template should be two parallel arcs, the bottom arc extending beyond the top on both sides.
Step 4
Cut out the template and fit it onto the frame to be sure the measurements are accurate. The paper should fit smoothly over the frame without puckering at the top. There should be enough overlap on the side to make a seam.
Make the Shade
Step 1
Trace the template onto the paper you chose for the actual shade.
Step 2
Use the hot glue to anchor the shade by placing one dot of glue on the top rim of the frame and one on the bottom. Align the paper shade over the frame and wrap it around, pulling it taut. Hot-glue the seam to secure the paper shade and allow the glue to dry.
Step 3
Cover the rim of the frame with decorative ribbon or other piping material, if desired. Use a thin line of hot glue to secure the piping.
Step 4
Take the shade to a well-ventilated area and spray inside and out with a fire-retardant spray. Allow the shade to dry and install it on a lamp.
Step 5
Choose the right bulb for the lamp. The fire-retardant coating will protect the paper shade from catching on fire, and a low-heat bulb will further protect the shade. Compact fluorescent lights generate 90 percent less heat than traditional incandescent bulbs.
Tip
An even easier project is to cover the existing shade with decorative paper. Simply coat the shade with spray-adhesive and apply the paper shade.