Things You'll Need
Painting on canvas

Tripod

Camera

Sharp HB pencil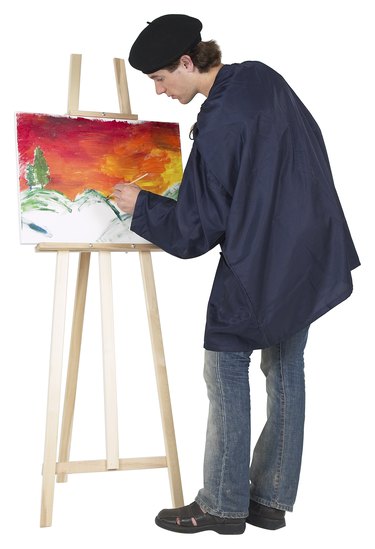 Original paintings make beautiful additions to home decor, but they are labor-intensive and one of a kind. Whether you want to share your paintings with family and friends or you want to offer prints as a more economical option to your originals, custom printing allows you to reproduce your work for a wider audience.
Step 1
Hang your canvas on a white wall in a well-lit area. Photograph your painting using a camera on a tripod. If your photograph represents an angled view of your painting, adjust the height of the tripod and re-photograph until the edges look square. Alternatively, if your painting is small, you can import it directly into your computer using a scanner.
Step 2
Open your image in a photo-editing program such as Adobe Photoshop, Adobe Elements or GIMP. Select the crop tool, located in all three programs on the main toolbar, and click to drag a rectangle around the portion of your image that represents your painting. Make sure the wrapped edges of your canvas are not visible in the cropped image. Save your file as a high-resolution .PNG on a USB drive or an external hard drive.
Step 3
Visit local fine-art printing establishments and get quotes on the size and quantity of prints you would like them to make. Decide whether you would prefer a digital or a giclee print. Giclee printing is a museum-quality technique and prints exhibit very rich colors. Digital pigment prints are more economical and less susceptible to water and light damage. Ask your print shop to see samples of each process it offers. Most print shops stock a wide array of paper, so ask what variety it would recommend for your particular piece. If no such businesses exist in your area, request quotes from online fine-art printers.
Step 4
Choose a printer based on the quality of the work you've seen and the price it quotes you. Give it your file and request a proof, or a sample print. Hold the proof against your original work to determine what, if anything, should be changed for the final printing. Communicate the necessary changes to the printer, and, if necessary, request another proof until you are ready to proceed with the final edition.
Step 5
Stack your finished prints on a clean surface. If your print has a margin, use a sharp HB pencil to sign your name at the bottom right directly under the image area. Number each print at the bottom left of the image area, using consecutive numbers for each print. Indicate the size of the edition as well, separated by a slash. For example, if your edition size was 50, your first print should read 1/50. If you want to keep any of your prints, label them "A.P.," to indicate "Artist Proof," and do not include them in the edition size.
Tip
Some fine-art printers will scan your painting on an extra large scanner for an additional fee. If you do not have a camera, call printers to see whether they offer this option.