Things You'll Need
Wood floor cleaner

Mop

Bucket

1 cup white vinegar

1 cup olive oil

Spoon

Cotton cloths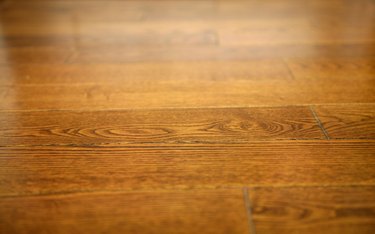 Wood floors complement any decor and last a long time when you take care of them. To keep your wood floors in top condition, clean and maintain them carefully to avoid moisture damage, scratching or wax buildup. Although floor wax can add shine to your floors, buildup can make them look dull and discolored. As an alternative, you can use home remedies to add shine and avoid the cost and work involved with using wax.
Step 1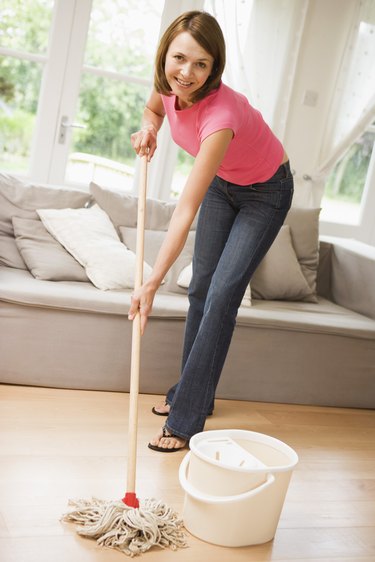 Clean your wood floors using a floor cleaner recommended by the manufacturer. Prepare it according to the directions, and apply it with a mop dampened in the solution rather than soaking wet.
Step 2
Allow your wood floors to air-dry completely.
Step 3

Pour 1 cup of white vinegar and 1 cup of olive oil into a bucket. Stir the two ingredients together with a spoon.
Step 4
Moisten a cotton cloth with the vinegar and oil solution. Wring out the cloth to remove as much liquid as possible.
Step 5
Polish a 3-foot square section of the wood floor with the vinegar and oil solution. Use a dry cotton cloth to buff the floor and remove excess oil solution. Repeat with the rest of the wood floor, polishing and buffing one 3-foot section at a time.
Step 6
Allow the moisturizing polish to soak into the wood floors overnight. Buff again with a dry cloth, if needed.
Tip
Dust and mop wood floors daily to remove dust and dirt and to maintain shine. Wet-mop your floor only once a week. Spot-clean stains instead of washing the entire floor.
Warning
Avoid ammonia-based cleaning products that can bleach wooden floors.