Things You'll Need
Replacement spark plug

Socket wrench

Caliper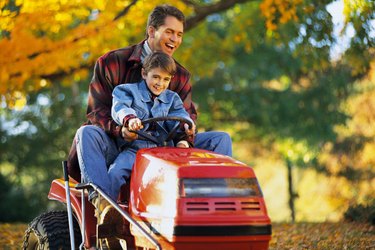 Briggs & Stratton is an engine manufacturer primarily for riding and push lawn mowers. The company also owns the Simplicity and Snapper mower brands. Their Briggs & Stratton 22 HP are small engines that rely on a number of components in order to effectively run. Common issues that can arise on Briggs & Stratton 22 HP engines include old spark plugs, a disconnected solenoid and an inaccurately spaced air gap.
Step 1
Park, turn off your lawn tractor and open the front hood.
Step 2
Ensure the spark plug on the side of the Briggs & Stratton 22 HP engine has its black ignition wire still connected to it. Reinsert it into the back of the spark plug if it has come loose. Alternatively, disconnect the existing spark plug if the ignition wire was in place and remove the spark plug.
Step 3
Insert a new spark plug and connect the ignition wire to it. This may be necessary, as over time, spark plugs can become faulty and require replacement.
Step 4
Ensure the black, negative terminal wire and the red, positive terminal wire are connected to the bolts on the mower's battery. If they are not, tighten them back into place on the bolts with your socket wrench. Follow the other end of the red terminal wire back to the Briggs & Stratton 22 HP engine's solenoid.
Step 5
Ensure the end of the red terminal wire is connected to the solenoid. If it is not, place the wire back over the side bolt on the solenoid and tighten it into place using your socket wrench.
Step 6
Check the air gap between the magnetic coil and the flywheel on the Briggs & Stratton 22 HP engine. The magnetic coil rests directly in front of the Briggs & Stratton flywheel, which is a circular part with a metal cover. The slight gap between the two parts is the air gap. This gap must be precisely sized, otherwise your engine may fail to start. Measure the air gap with a caliper.
Step 7
Ensure the air gap is between 0.010 and 0.015 in width. If it is not, reposition the magnetic coil to either widen or shrink the air gap's width. Loosen the bolts on the Briggs & Stratton 22 HP engine's flywheel with your socket wrench. Apply pressure to either side of the coil to slightly reposition it closer or further away from the magnetic coil to grow or lessen the air gap so that it meets the necessary specifications.
Step 8
Remeasure the air gap to check your adjustments, tighten the magnetic coil's bolts and close the engine hood.