Things You'll Need
Skillet or grill pan

Olive oil

Spatula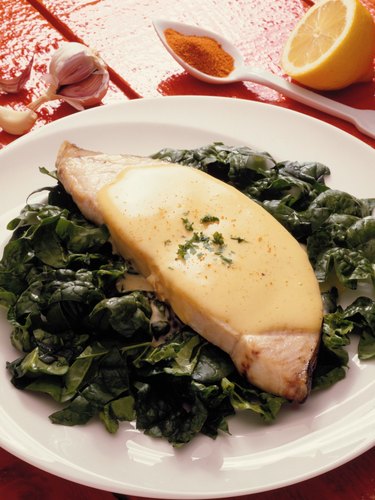 Swordfish has a bolder, meatier flavor than white-fleshed fish. Bring out this rich flavor by cooking it like a beef steak. Pan-frying swordfish, especially with a grill pan, is the best indoor cooking method for this fish, according to "The Illustrated Cook's Book of Ingredients." Properly prepared swordfish will entice the taste buds while contributing to a healthy diet. Adding swordfish to your diet contributes a dose of heart-healthy omega-3 fatty acids from the fish, but pregnant women and children should avoid it because of the amounts of mercury in the fish.
Step 1
Heat the skillet over medium-high heat until the surface is hot.
Step 2
Rub both sides of the swordfish steaks with a thin coating of olive oil. Place the oiled steaks in the pan.
Step 3
Cook the steaks for three minutes per 1/2-inch thickness.
Step 4
Turn the steak with a spatula and cook for two minutes per 1/2-inch thickness or until the flesh is firm when pressed with a finger. Serve the fish with your choice of sauce or topping.
Tip
Choose accompaniments for swordfish with flavors that are complementary. Basil, coriander, citrus, sesame oil, cilantro and paprika are some complementary flavors, according to "The Illustrated Cook's Book of Ingredients."
Warning
Pregnant women and young children should not eat swordfish because of the risk for mercury exposure in the fish.