Things You'll Need
White glue

Plastic bowl

Wooden stick

Talcum powder

Cornstarch

Sieve

Pan

Spatula

Plaster of Paris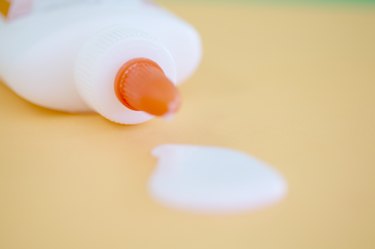 Modeling paste, also known as molding paste, is a thick material used to create textures on paintings, repair frames or furniture or create small three-dimensional decorative details or sculptures. Modeling paste is available in craft stores and comes in different consistencies including regular, light and hard. However, you can prepare your modeling paste at home using gesso, dextrin and plaster.
Step 1
Mix one part of white glue with four parts of water in a plastic bowl. Mix until the glue is dissolved.
Step 2
Add talcum powder to the glue and water. Use twice as much talc by volume as there is liquid. For instance, if you use 1 cup of water, add 2 cups of talcum powder. Mix well, until you obtain a paste with the consistency of pancake batter. This is the gesso.
Step 3
Sieve a cup of dry cornstarch into a pan to make dextrin. Dextrin acts as a binder in the modeling paste. Heat the oven to 400 degrees Fahrenheit and then place the pan in the oven. Bake the cornstarch for 15 to 20 minutes, then remove the pan and stir with a spatula. Bake for another 15 to 20 minutes, remove the pan from the oven, and stir again. Continue baking until the powder is golden brown.
Step 4
Use 1 tbsp. to a cup of water and mix until the dextrin dissolves in the liquid.
Step 5
Add the liquid dextrin to the gesso. Use 4 tbsp. of dextrin for each cup of talcum powder you use in making the gesso. Mix well.
Step 6
Add Plaster of Paris to the mixture of dextrin and gesso. Add only one spoon of plaster at a time and mix with a wooden stick. Add plaster until it has absorbed all the liquid in the bowl.
Step 7
Keep the modeling paste in an airtight container or a sealed jar or prepare only small amounts of paste at one. The paste dries if in contact with air.
Tip
Use stencils to create textures on your paintings or collages. Apply modeling paste on your painting and press on the stencil. Allow the paste to harden a bit and remove the stencil.
If adding colors to the modeling paste, the colors will lighten because the paste is white, so you need to add other colors to obtain the desired colors.
Apply the paste to your canvas or collages using a palette knife or a cake decorator. If you want to make figurines, knead the paste and use plaster to prevent the paste from sticking to your table and fingers.