Things You'll Need
Empty net mesh produce bag

Scissors

Strong thread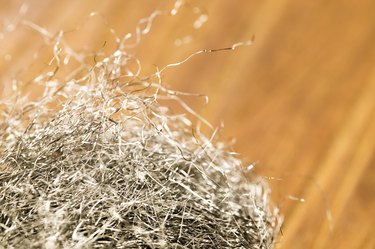 Nearly everyone needs plastic scouring pads for cleaning dishes or cookware that you can't risk scratching with metal scrubbers. You can make your own net scouring pads by recycling empty mesh produce bags. These no-cost scouring pads work every bit as well as store-bought cleaners, and you can run them through the dishwasher when they become soiled.
Step 1
Wash an empty net mesh produce bag with soap and water and allow it to air dry.
Step 2
Cut off any metal bands, stitching and labels with scissors and discard them.
Step 3
Fold the net bag down to a rectangle the size that you find convenient for a scouring pad.
Step 4
Stitch around all four edges with strong thread. You can do this by hand or on the machine.