Things You'll Need
Gravel or sand

Hand shovel

Garden roller

Cold-patch sealant

Emulsified asphalt liquid

Paint brush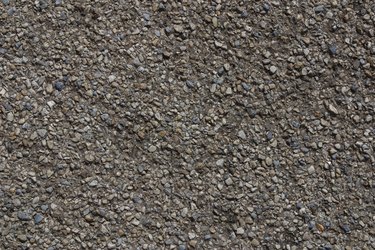 A gap or crack between an asphalt driveway and a house foundation can lead to serious damage if not remedied quickly. Gaps can occur between asphalt and concrete for many reasons, including weather changes, vehicle-inflicted damage or improper installation of the asphalt. If water seeps between the gap in the asphalt and a house foundation, water can erode the foundation and cause serious structural problems for the house. The quickest way to remedy these gaps is to purchase a tar-like sealant and fill the gap as soon as possible.
Step 1
Dig out any loose material between the asphalt and concrete using a hand shovel and clear any loose debris. Undercut the edges of the asphalt slightly by digging in at an angle to provide a better grip for the cold patch sealant.
Step 2
Fill the gap with gravel, leaving 4 inches from the hole surface for the cold patch sealant. If the hole is less than 4 inches deep, skip this step.
Step 3
Prime the gap by painting it with emulsified asphalt liquid. This will help the new material cling to the old material. The paintbrush will likely be unusable after this step, so discard when finished priming.
Step 4
Apply the cold patch sealant to fill 2 inches of the hole, then roll it with a garden roller to even it out across the hole. Apply another 2 inches of cold patch and roll it out again. Add a little more material to create a slight mound of material above the hole. Tamp the top of the hole when finished and optionally roll over it with car tire to further seal it in.
Step 5
Cure the repaired area for 12 to 36 hours before driving on it, and give it two to five days to cure before repeating the process to cover any missed areas.
Tip
Use a hand shovel to tamp the asphalt or use a hand tamp.